---
79-year-old Mike cycles 1,500km across the Australian outback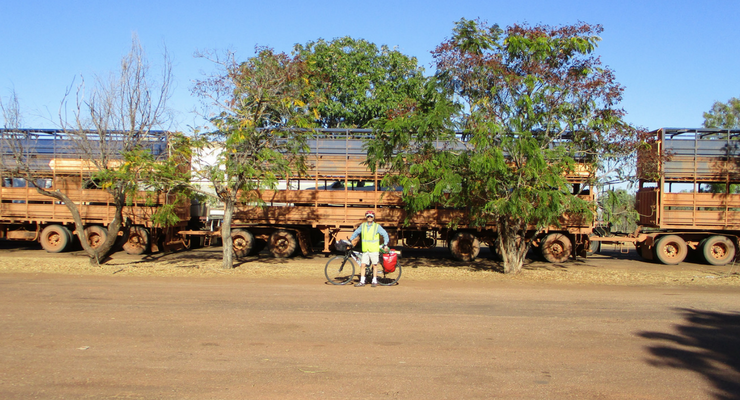 Retired biomedical scientist and seasoned traveller Mike Patmore, 79, took part in an epic solo cycle ride from Alice Springs to Darwin – 1,500 km across Australia's Northern territory.
Carrying his tent, sleeping bag, a six-litre water supply, some high protein food and sachets of energy salts, Mike, who lives in Streatham, South London, completed the challenge in just 30 days, including six rest days.
Mike is no stranger to adventure having recently cycled the Nullarbor Plain of Australia as well as climbing some of the iconic Tour de France mountains in the Alps and Pyrenees plus Mont Ventoux in Provence.
"It was a great experience and I'd recommend anyone thinking about doing something similar to get on their bike and get on with it," said Mike who wanted to make the most of cooler Australian mid-winter days.
"Properly prepared, you will never regret it. It was such a positive experience, with many people along the way wanting to know who the old grey-haired pom crazy enough to do something like this was."
Mainly staying at campsites en route, Mike had cycle north along the Stuart Highway from Alice Springs on the first day, surprising himself by getting an impressive 92km under his belt.
He continued: "I was feeling pretty good at my progress and set up the tent, only to promptly snap the tent pole.
"As you can imagine at that point my high spirits went straight out the window, mainly as temperatures drop to almost zero at night at this time of the year.
"So I turned in with my sleeping bag on top of my blow up mattress and with what remained of the tent draped over me. 
"I managed a couple of hours sleep but got up by 5am and, wrapping my sleeping bag around me, kept warm by jogging up and down the roadside. Goodness knows what the truck drivers thought when they saw this apparition illuminated in their headlights. 
"I needed a new tent though which meant a trip back to Alice. It was a Saturday, however, and to cut a long story short I had to wait until Monday to catch a Greyhound bus from Ti Tree roadhouse, another 1,000km - two days ride - north.

"Luckily I stayed at roadhouses while cycling north until the Monday and then took the bus to Alice Springs and back the same day. On the Tuesday I was ready for the road again with my new tent! It was an inauspicious start but the rest of trip went without any major incidents which was a big relief."
Mike raised an amazing £1,000 for The Leprosy Mission to support and change the lives of people affected by leprosy for the better.
The desperate needs of people affected by leprosy first came to Mike's notice during his time working for Medicins Sans Frontieres in Myanmar (formerly Burma) 10 years ago. 
He said: "Leprosy is such a unique and terrible disease. Not only do people suffer physically and develop terrible disabilities if the disease goes untreated, but they are often cast out from their families and communities which is just devastating.
"Throughout my trip I told people I was doing it to help people affected by leprosy. People were really interested and couldn't believe that there are more than three million people globally living with leprosy-caused disabilities.
"They associated the disease with the Bible and thought leprosy disappeared soon after that which is far from the reality."