---
Ian's 80th birthday zip wire and freefall drop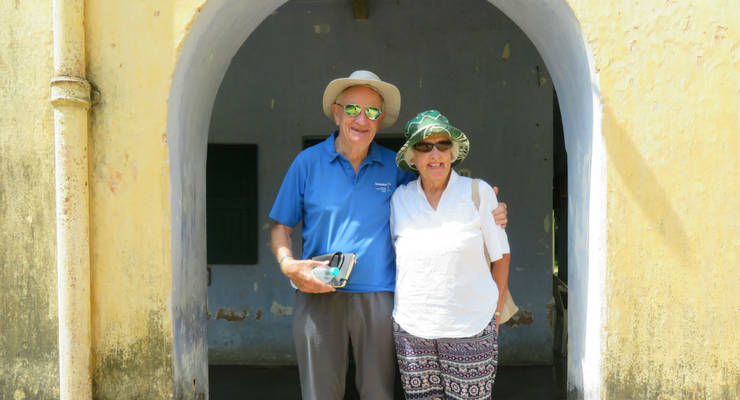 Ian Jepps chose to mark his 80th birthday by completing the longest zip wire challenge on the South coast followed by a daring 24 metre drop.
The grandfather of four and self-proclaimed adrenaline junkie took part in a 300 metre zip wire along Brighton sea front ahead of completing a 24 metre freefall drop to mark in August 2018, raising £2,430 in the process.
Mr Jepps and his wife Pauline, 79, of Slinford, Horsham, are both volunteer speakers for The Leprosy Mission having been inspired by the charity's work almost a decade ago.
He said: "Birthdays are associated with presents but this birthday I wanted to give a present to the people who will most benefit.
"Our desire to become fundraisers for The Leprosy Mission began nearly 10 years ago when my wife and I were looking for something to celebrate us turning 70.
"I read in The Leprosy Mission's supporters' magazine about a Trek for Treatment in the Himalayas and a visit to the charity's Anandaban Hospital in Nepal.
"I was sure my wife would say 'no' and was completely surprised when she said 'let's go for it'.
"We spent two days at Anandaban Hospital which was completely inspirational. The hospital is like a beacon of light in the mountains, with leprosy patients, often cast out from their families and communities, travelling miles to reach.
"Many of the patients are desperately disabled which is so tragic as there is a cure for leprosy and if they receive it promptly they would be fine. But at Anandaban patients are helped to walk, fitted with prosthetic limbs and become independent again. Some even learn new skills and end up better able to support themselves then they did before leprosy took its toll on their bodies.
"We have been back to Anandaban Hospital twice since, once in the aftermath of the devastating earthquake in Nepal in 2015, and we also went to see The Leprosy Mission's work in India last year.
"I have zip wired across The Oval cricket ground before so I am looking forward to that bit but must say I am unsure about the 24 metre drop," said Mr Jepps, ahead of his challenge.
"My head tells me it can't be dangerous but I'm sure when I'm up there my heart will be telling me something quite different.
"Nevertheless I am determined to complete it."