---
Sally's 50 mile walk along the Thames path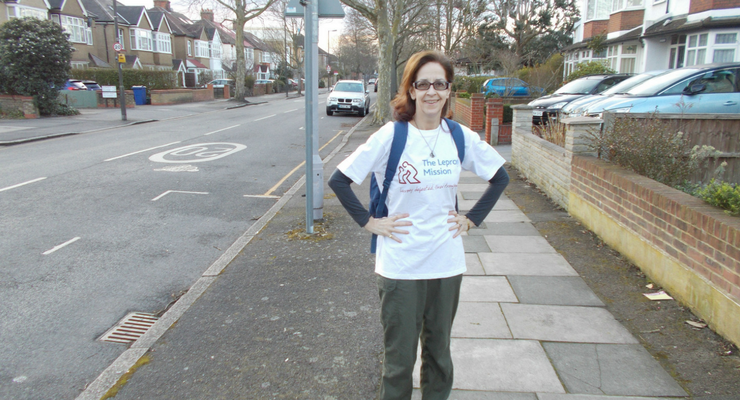 Sally Carter Esdale, from Wimbledon, completed a Holy Week prayer walk along the Thames Path in 2018.
She finished the 50 mile stretch at Windsor on Good Friday together with her husband Charles who walked the final leg with her.
Mum-of-four Sally hopes her efforts will raise as much awareness and money possible for The Leprosy Mission's Premananda Hospital in Kolkata, India.
Sally has supported The Leprosy Mission since 1985 and, after retiring from her teaching career in 2017, she has dedicated herself to speaking about the charity's work in churches and community groups.
She travelled to India later that year to visit two Leprosy Mission hospitals which has only further fueled her heart to help those with leprosy, a curable yet deeply disabling and stigmatised disease.
Sally said: "I always think what would Jesus do and in the Bible we read he took every opportunity to help someone. There's a person attached to every story.
"Last summer my daughter Eleanor and I walked Pilgrim's Way to Canterbury from Wimbledon, sponsored by our friends to raise money for The Leprosy Mission's work at Purulia Hospital in India. To our surprise, complete strangers we met along the way were moved to give us donations after hearing us talk about the work.
"Although curable, leprosy is a cruel disease which causes nerve damage. It results in people developing terrible disabilities as they can no longer feel pain in their hands and feet. 
"Eleanor and I took stones out of our shoes countless times while walking Pilgrim's Way which people with leprosy wouldn't be able to feel and would develop terrible sores and infections as a result."
"It is a fantastic way of meeting people and telling them about these terribly isolated and marginalised people in Asia and Africa who desperately need our help."