Harvest Appeal 2023
This Harvest, bring your community, church or family together to help families like Vavi's in Sri Lanka.
In recent years, the country has faced the worst economic crisis in its history. Families are struggling with soaring prices and shortages of essential goods. Many households don't have enough food - and life is even harder for people affected by leprosy, who often struggle to find jobs and are discriminated against by their communities.
Meet Vavi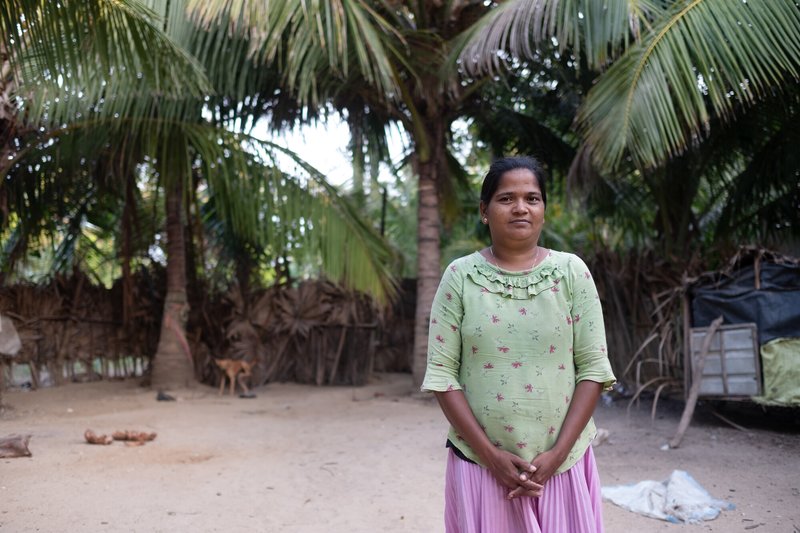 Vavi lives in a remote village in the north of Sri Lanka. In the past, she was an active member of her community, and, working as a labourer, she earned enough money to provide for her children. But everything changed when she was diagnosed with leprosy at the age of 32.
In rural areas, many people like Vavi get their water from a communal well. But when Vavi's neighbours discovered she had leprosy, their fear of the disease was so great that they stopped her from using it. Vavi's friends turned on her. It became difficult for her to find water for drinking and cooking, and it was even hard to keep clean.
Vavi was also mistreated at work. Although she was taking the cure for leprosy, she was still struggling with the side effects of the disease. Her employers were unhappy that this was preventing her from working as quickly as she had done before. Before long, she lost her job. She felt desperate – would leprosy stop her from ever working again? What would happen to her children if she couldn't provide for them?
The tools for a secure future
The Leprosy Mission's partner organisation in Sri Lanka, Kaveri Kala Manram (KKM), is working with families like Vavi's to equip them for a more secure future. And this year, you can join with us to help break the cycle of leprosy and poverty - providing people with the tools, seeds and plants they need to grow plenty of nutritious food that will also provide an income. You'll also help support them with emergency food in the short term while they get their gardens up and running.
Will you stand with families in Sri Lanka as they make a fresh start and look towards a future where they can thrive?
Join in
Holding a Leprosy Mission Big Harvest Quiz is a wonderful opportunity to come together for a good cause and have fun at the same time. The money you raise will make a real and lasting difference to people like Vavi and their families. So why not get your community together? Simply follow the link below to order your free resources pack containing everything you need to run your event.
If a Big Harvest Quiz isn't for you, we also have a range of resources to help you talk about the Harvest Appeal at your church, including a poster, information sheet with prayer points and a video.
Download our Harvest Appeal information sheet
Watch our Harvest Appeal video
Please get in touch if you'd like any donation envelopes to help with raising money.
Paying in your fundraising
You can pay in your fundraising online or send it in by cheque to The Leprosy Mission, Goldhay Way, Orton Goldhay, Peterborough, PE2 5GZ.