Cured but still stigmatised: Jaseem's story
Alisia O'Sullivan reflects on her trip to India to meet the CREATE project team and some of the people they will be helping in the future - including Jaseem.
On my last day of my first trip to India to visit the work of The Leprosy Mission there, I tried to capture some of the many thoughts and feelings whirling around my head in writing:
'Poverty, humility, despair, hope, pride, change, beauty, contrast, noise, pollution, exciting, exhilarating, HUGE.
'How can I encapsulate all I've seen? It's been so busy and such a jam-packed schedule to visit examples of our work and see the needs of leprosy affected people in India.
'It's been difficult to process everything - and now I'm here on the last morning before flying back to the UK and I finally have time to pause and reflect.
'I thank God for the clean bed I'm staying in. As the monsoon rain pours down I'm dry, mud-free and there's no stench of animals and their waste (an ever-present odour as we visited leprosy-affected families and communities).
'I thank God that I'm going home to a family who love me - and whilst I'm not perfect, they would never throw me out because I contracted a curable disease.
'I thank God that I have a good job and can help people affected by leprosy, so when I tell the stories of people in need, I pray that I do honour them – that I can say what I saw and convey the need, but also that I can show what a difference can be made in their lives.'
Here's a story I want to share about 22-year-old Jaseem, who was facing an uncertain future on the day we met him.
Early on in our busy trip to see the CREATE project, we arrived in a remote Indian village where the streets were so narrow that we had to abandon our car and walk the final part of the journey on foot, causing quite a stir as people noticed our CREATE t-shirts.
Throughout the trip I was especially conscious that meeting young people affected by leprosy and interviewing them is quite a responsibility, asking personal questions about such a difficult subject. With Jaseem, much of his story was articulated not through words but rather through his sad stare and nervous hand wringing.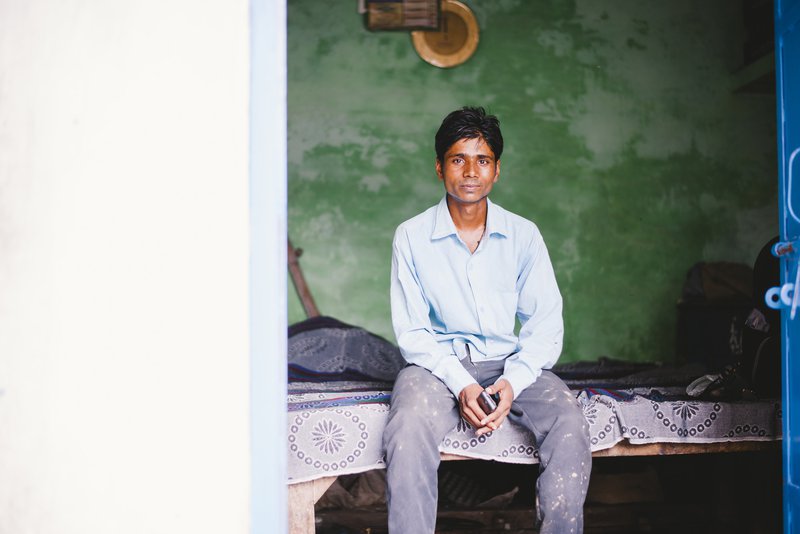 It tugged at my heart that when Jaseem was being photographed, I noticed how one of his younger brothers slipped away out of the frame - maybe because he was shy or perhaps because he was too embarrassed by the crowd and the attention being given to his family, who have been through so much. I really felt his sense of rejection and uncertainty that day.
Jaseem shared with us that when he discovered he had leprosy, he felt worried and that his life was not worth living. He said he only started to feel better once he was under the care of the hospital where he received reconstructive surgery on his hand and foot.
Unfortunately, despite being cured and with his mobility improved, he experienced ongoing discrimination in his village. People would not sit with him or kept their distance and he took care to hide his hand. It was heartwrenching to hear that such a handsome and bright young  man was being shunned by his neighbours. Living in a remote community, he had nowhere else to go.
It was a stark reminder that even when people have been cured of leprosy, their lives are not necessarily transformed. It's a much bigger challenge to educate and change the hearts and minds of isolated communities where age-old prejudices are rife. That's why the CREATE project, which will tackle discrimination in four states across India, is so badly needed.
Later, I discovered that Jaseem has been looking for work after completing training as a mobile phone technician but frustratingly, he had not been offered a job, again due to the stigma associated with leprosy.
When I asked him if he thought things could change for people like him affected by leprosy, he said that people would not listen to him, but would listen to people like us,  by which he meant the CREATE team and doctors.
As we left I wanted to encourage him and said we were looking to help and would be praying for him and his situation. Jaseem thanked us profusely and CREATE project staff assured me that they will now be involved in advocating for him as he looks for work and to tackle stigma in his village.
There are many more young people in India just like Jaseem, facing uncertainty and anxiety about their futures because of their leprosy. By supporting the CREATE project, you could play your part in making sure stigma is stamped out and that people affected by leprosy will have the opportunity to complete their education, work and look forward to brighter futures.
Photos: Ruth Towell/The Leprosy Mission