Global citizens Light the Way for a better world
When the 193 heads of state meet on 25 September in New York to adopt a universal set of goals and targets for global development it will be in the wake of hundreds of campaigners lighting up a corner of London to show their support for the global goals.
The 2030 Sustainable Development Goals are expected to be used by UN member states to frame their agendas and political policies over the next 15 years and to agree aid programmes to end poverty and improve the lives of poor people, in the UK and abroad.
On the eve of the UN summit, on Thursday 24 September, over 100,000 people from over 150 countries around the globe held up lights calling on heads of state to Light the Way for a better world. In London over 900 people lined the Millennium Bridge in solidarity with the world's poor.
The Light the Way action was a demonstration to world leaders gathering to adopt the goals, that the world was watching and that people were determined to make a stand against pressing issues of our time such as poverty, inequality and climate change.
Sian Arulanantham, Head of Programme Coordination for The Leprosy Mission England and Wales, who was among those who made the journey to the Millennium Bridge said: "As the sun set over the Thames it was great to see people gather together to make a stand for social justice and a better world.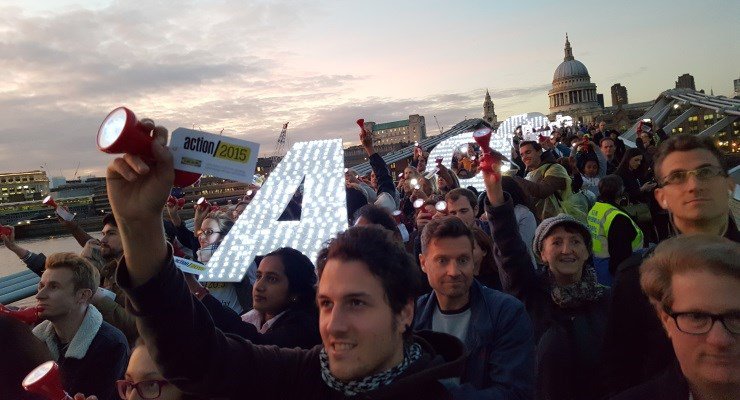 "The Sustainable Development Goals are the world's opportunity for transformational development, both in terms of protecting our planet and ensuring justice and equity for its people.
"The signing of these Goals will be a key event for this generation, an opportunity to change the world for the better, so it was wonderful to see both young and old standing together to encourage leaders to tackle the global issues of our time."
The 2030 goals follow the Millennium Development Goals that were agreed in 2000 (and expire at the end of this year) failed to consider the root causes of poverty and inequality.
There are 17 goals and 169 targets in the new set of global goals, including Neglected Tropical Diseases such as leprosy which will ensure the inclusion of disabled people in the development process.
Around 1 billion people still live on less than $1.25 (82 pence) a day - the World Bank measure for poverty - more than 800 million people do not have enough food to eat and 1.4 billion are affected by neglected tropical diseases.
Click here for the full text of the UN's goals aimed at people, planet, prosperity, peace and partnership.
Photo: Ruth Towell