Pioneering leprosy research could save the limbs of diabetes patients
A wound healing treatment pioneered at a mountaintop leprosy hospital in Nepal could spare diabetes patients from having to undergo foot amputations.
It was the brainchild of Dr Indra Napit, Senior Surgeon at The Leprosy Mission's Anandaban Hospital, to use the Leukocyte and Platelet Rich Fibrin (L-PRF) technique to accelerate the body's natural healing process in leprosy patients.
From the foothills of the Himalayas, L-PRF is now part of a wider study headed up by the University of Birmingham. Funded by The National Institute for Health Research's Research and Innovation for Global Health Transformation programme, the research project has enormous potential for diabetes patients globally.
Professor of Public Health at the University of Birmingham, Professor Richard Lilford CBE, is heading up the project.
He explained: "You might remember as a child grazing your knee and a scab forming. When the scab came off a few days later – bingo! The skin underneath had miraculously healed.
"Maybe substances in the scab were promoting healing. We plan to test this idea in people affected by leprosy ulcers. Using the patient's blood, my colleagues at Anandanban Hospital in Kathmandu make a kind of artificial scab which is used to dress the ulcer. This has been widely used but never properly evaluated.
"If it works it will have implications not just for leprosy but for more common diseases where ulcers are caused by nerve damage. Most especially diabetes."
In the UK alone, 10 per cent of diabetes patients, equating to 450,000 people, develop a foot ulcer at some point in their lives.
Dr Indra said that L-PRF had seen faster healing times in leprosy patients, as well as people with diabetic foot ulcers, venous ulcers and bone injuries.
He said: "If left untreated, leprosy causes nerve damage. As a result people affected by leprosy have frequent hospital stays to cure ulcers, which can take many months of even years to heal.
"But with L-PRF even the most severe ulcers could heal far quicker. This can prevent disability and even amputation.
"L-PRF can be lifechanging for leprosy patients as it means they can return to their families and jobs, if they are blessed to have them.
"For us at Anandaban, there are so many benefits all round. Faster healing frees up hospital beds so we can treat more people affected by leprosy.
"There is always a huge need, and it is our calling to reach everyone possible who needs our help. L-PRF is natural, cheap and safe. It is a simple procedure that can be carried out by nursing staff and paramedics."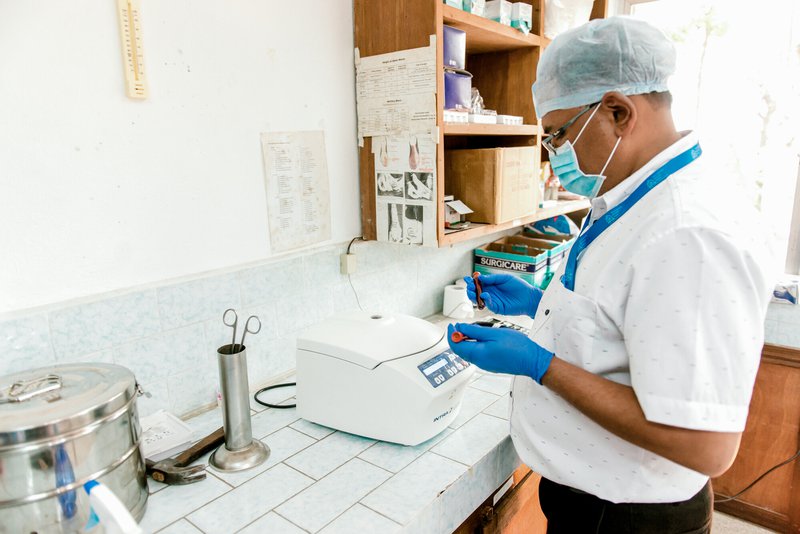 L-PRF sees blood samples taken from a patient and then spun in a centrifuge to separate the red and white blood cells with platelets into two layers. The white blood cells and platelets then coagulate to create a gel membrane, a precious concentration of the body's own healing growth factors and infection-fighting agents.
The procedure first took place in the dilapidated research lab at Anandaban Hospital in 2008. Since then hundreds of patients have been given the treatment at Anandaban Hospital.
The Leprosy Mission is launching its Greater Heights campaign on Sunday 30 January, World Leprosy Day 2022, to rebuild Anandaban Research Centre.
Chief Executive, Peter Waddup, said that although groundbreaking research, like L-PRF, is being birthed in the current lab, the building is no longer fit for purpose.
Peter said: "The lab was badly damaged in the devastating earthquakes of 2015 and will not pass its upcoming inspection by the Nepali government.
"If we lose this lab, we lose the chance to end leprosy in our lifetime. Although there has been an effective cure for leprosy since 1982, we will not be able to rid the world of this disease without pioneering science.
"The research taking place in this crumbling building and the skill of the researchers working there, never ceases to amaze me.
"One of the ongoing research projects sees leprosy diagnosed on an adjusted smartphone camera. I am so excited about this as it could be a complete gamechanger.
"It takes a high level of clinical skill to diagnose leprosy. Even with training, some health workers and volunteers need to rely on skin smears or a biopsy to be taken to confirm a diagnosis.
"As you can imagine, this can be tricky in the remote mountainous areas of Nepal where there are no lab facilities, sometimes for hundreds of miles.
"But for an outreach worker to be armed with an adapted smartphone that can accurately diagnose leprosy within a person's community has incredible potential.
"It will see more cases of leprosy found and treated in the early stages than ever before. There will be less disability and it will certainly pave the way to ending this dreadful disease once and for all."
The Greater Heights campaign is spearheaded by Vice-President of The Leprosy Mission Paralympian Stef Reid. Stef, an amputee, has spent time at Anandaban Hospital and is passionate about giving healthcare and opportunities to people affected by leprosy and disability. Stef is currently competing in ITV's Dancing on Ice.