Diagnosing and treating leprosy
Towards our goal of zero leprosy transmission, we work with our partners to diagnose and treat the condition and its complications as early as possible.
Firstly, we engage governments to make finding and curing leprosy part of state healthcare provision. We advocate integrating leprosy treatment programmes into wider healthcare services to reach more people with the disease.
To diagnose leprosy early, we work with other local partners, like churches and community leaders, to be proactive in their local areas. By increasing awareness and challenging misconceptions, they can encourage people to seek the support they need.
And we support healthcare professionals to train and get experience in treating and curing leprosy. We help them recognise the symptoms of the disease and address complications, like clawed hands, dropped feet and damaged eyelids, with surgery.
We help hospital staff reach out into areas where people have less access to medical care and may therefore miss the chance to be diagnosed and treated. This can be through satellite clinics operating out of larger hospitals, outreach camps in more isolated rural areas, or door-to-door checkups.
Working with healthcare professionals increases the chance of people being diagnosed early and correctly. So they get the help they need before their bodies are permanently disabled.
We are a world leader in leprosy research, continually developing and trialling innovations to reduce leprosy transmission and improve early diagnosis. We support world-class leprosy research centres in Nepal, India and Bangladesh. The teams there partner with the best in their field to carry out cutting-edge research. Studies they are currently involved in include the development of an early diagnostic test, which could transform many lives.
Sugnathini's story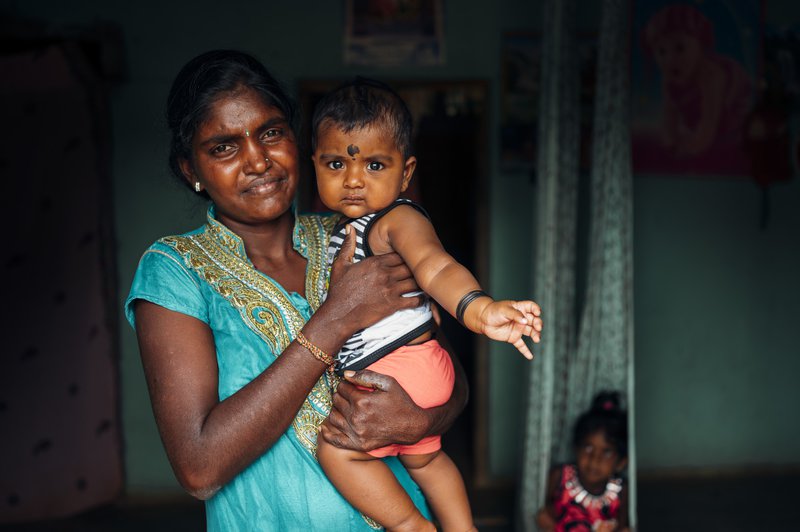 Sugnathini had been experiencing loss of sensation and lighter patches of skin on her hands and arms for some time when a leprosy screening programme took place in her village in Sri Lanka.
When she was diagnosed with the disease, her thoughts immediately turned to her five-year-old daughter and baby son. She was worried that she would be unable to care for them or that they might get leprosy too.
Our partners in Sri Lanka were able to reassure Sugnathini that by taking her course of multidrug therapy, she should have no further symptoms and would not pass the disease on to her children. She was also concerned about facing stigma from her friends and neighbours. But thanks to awareness-raising about leprosy locally to combat harmful myths about leprosy, she has faced no discrimination.