Global Recipe Club: Jollof Rice from Nigeria
This month we're travelling to the magnificent country of Nigeria. Although Nigeria is rich in natural resources, half its population live in extreme poverty. Because of this, the number of people affected by leprosy remains high and 10 per cent of all new cases are children.
But your kindness is changing many communities in this country for the better. You are healing people with leprosy and helping them to build a life free from poverty and disease.
Your support teaches people about the signs and symptom of leprosy in healthcare centres, and through special outreach programmes in schools and rural communities. This work also helps to address the stigma and fear surrounding leprosy. All of this means that people are referred and cured quickly before leprosy damages limbs.
Your recipe this month comes from Joanna, who's part of our Programmes team and oversees the work you support in Nigeria. Joanna is Nigerian herself and says that a love of cooking is an important part of her culture. She is excited to share this special recipe and hopes that you enjoy making it as much as she does!
"Jollof rice (usually just called 'jollof') is a Nigerian favourite," says Joanna. "There are more than 200 indigenous tribes in Nigeria, each with different soups and stews, but everyone loves jollof. Travelling to visit our projects, I have often had the joy of sharing a bowl of spicy jollof with staff and people affected by leprosy. I am always humbled by the warmth and generosity of the people that we visit."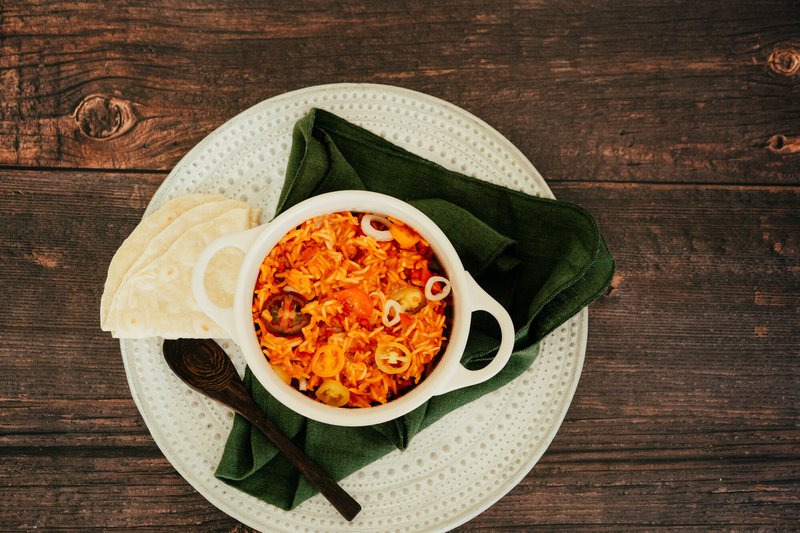 Ingredients
650g basmati rice
3 medium-size red bell peppers (Tatashe)
500 g of fresh Roma tomatoes
2 Scotch Bonnet peppers (Ata rodo). Use more if you like your food spicy!
350ml beef (or veg) stock
3 medium-sized onions
2-inch piece of fresh root ginger
1 tsp curry powder
1 tsp black pepper
1 tsp thyme
½ tsp nutmeg
½ tsp ground cloves
½ tsp cinnamon
2 bay leaves
150ml vegetable oil (sunflower or soya oil)
2 tbsp butter (plant butter works well too)
Salt to taste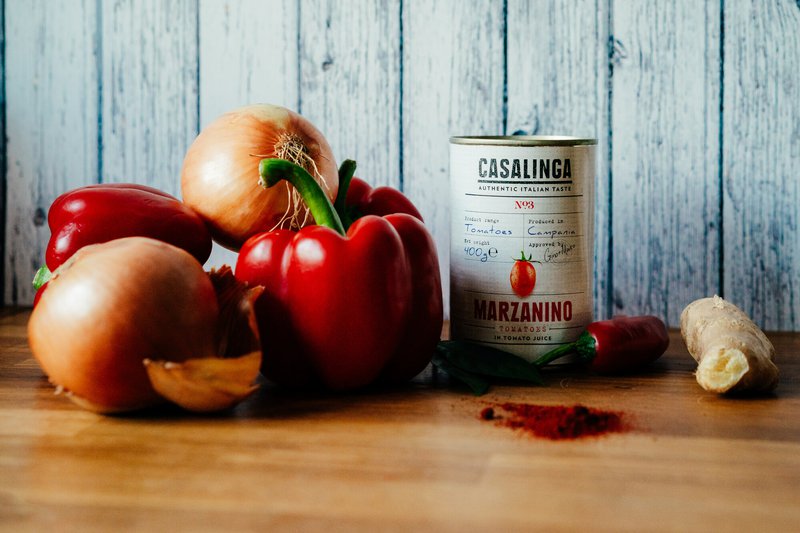 Method
Wash the rice thoroughly to remove the starch and set aside.
Roughly chop the peppers, tomatoes, Scotch Bonnet peppers and onion, and put them into a blender. Grate the ginger and add it to the blender. Pulse until smooth.
To the blended mixture, add the seasonings: curry powder, black pepper, thyme, nutmeg, ground cloves and cinnamon.
Heat the oil in a large pan, add in the mixture and stir. It will sizzle initially and then settle into a steady simmer.
Lower the heat to medium and allow to cook, stirring frequently, until the liquid in the mixture evaporates and you are left with a thick red paste (approximately 20 minutes).
Add the stock to the paste and bring to a boil.
Stir in the washed rice.
Cover the pan with a tight-fitting lid and allow to simmer for 20 minutes on very low heat. If your pan does not have a tight-fitting lid, cover it with a sheet of kitchen foil before you put on the lid.
After 20 minutes, check the texture of the rice. It should have absorbed the liquid and softened.
Stir in the butter along with a few fresh tomato and onion slices. Add salt if necessary.
Cover again and let it sit on low heat for a further 5 minutes.
Fluff with a fork and serve!
Did you know?
As well as being delicious, tomatoes are a great source of Vitamin C, potassium, folates and Vitamin K.
Find out more about our work in Nigeria