As we build back after Covid, no-one like Maya should be left behind
"I used to think my fingers would always be like this. All my previous doctors told me that there wouldn't be any improvement."
When 16-year-old Maya (pictured below, with her mother) came to a Leprosy Mission hospital, the effects of the disease on her body were plain to see. After experiencing symptoms for about three years, her hands are clawed. She can no longer hold a pen to write, which has stopped her from going to school. And she'd been turned away by other doctors, who said they could not treat her.
Having been diagnosed with leprosy in 2020, Maya had started taking Multidrug therapy. But as Covid-19 spread around the world and countries implemented lockdown measures, Maya needed to stay at home. She wasn't able to travel to hospital to pick up more medication.
Without completing her course of treatment, leprosy continued to damage her hands, meaning that by the time Maya came back to the hospital, she needed surgery to straighten her fingers and help restore movement to them again.
"I was scared I couldn't continue at school or that no-one could cure me and make my hands work again," she said.
"This happened because I ran out of leprosy medicine before I completed the course. Lockdown meant I couldn't travel to hospital regularly to collect my tablets."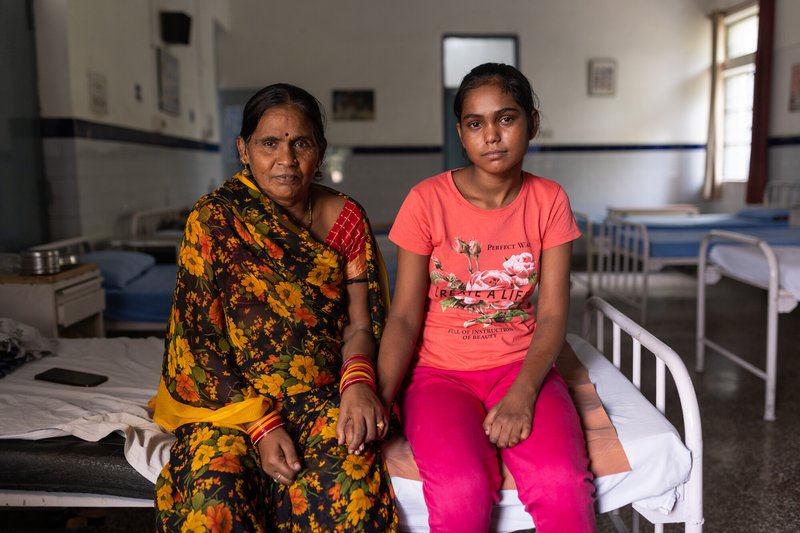 At Leprosy Mission hospitals across India, staff are now seeing the effects of the pandemic on patients who were prevented from coming in for treatment by lockdowns or the fear of catching Covid.
While many people have delayed accessing healthcare during the pandemic, those already marginalised by leprosy, disability and poverty have struggled more than anyone with reduced availability of treatment and support. And with greater barriers to healthcare and support, barriers to education, work and particapting in society increase too.
These barriers faced by disabled people are being highlighted today, the International Day of People with Disabilities. Since 2020, every person has found their life changed in some way by the pandemic. But for disabled people, these changes have often had a greater impact, with long-term consequences. And it's vital that as the world tries to 'build back', no one should be left behind.
Recovery from Covid must include the most marginalised people, making sure that the everyday barriers they face are addressed.
"The pandemic hit us hard," explained Dr Famkima Darlong, Head of Hospitals at The Leprosy Mission Trust India. "We did not expect it and we were not prepared. And in the midst of those challenges our hospitals stepped up to provide Covid care. That meant that essential leprosy services were hit."
Hospitals now face the challenge of providing vital care and rehabilitation for more people like Maya, making sure that they get the treatment they need as soon as possible to reduce the impact of leprosy on their mobility and their physical and mental wellbeing.
"After surgery my fingers will straighten again and I'll be able to hold a pen and write at school," said Maya. " I feel confident with the doctors here. They are giving me good treatment and take time to talk with me."
It's Maya's hope that she will go back to school and on to university, so she can achieve her dream of becoming a doctor. And with the right treatment and support, so many others like her will be able to look forward to a future free from the effects of leprosy.
This winter, Leprosy Mission hospitals in India will play a key role in 'building back' and making sure people affected by the disease receive urgent care. A gift this Christmas could provide a bed for a patient like Maya as they recover from surgery. It could pay for an operation that will restore movement to someone's hands or help them walk again. This Christmas, you can make sure that no-one is left behind.
Give a gift to help people like Maya get the urgent care they need