Breaking the bias of health inequality in Nepal
Urmila first came to Anandaban Hospital in Nepal more than 20 years ago when she was just 11 years old. She was suffering with painful sores and persistent rashes on her body. Leprosy had caused damage to her nerves and stolen the feeling in her hands and feet. As a result, Urmila didn't notice when sharp stones ripped through her shoes and tore her skin. This led to infection and ulcers.
For years, Urmila struggled with a particularly bad ulcer that wouldn't heal, making it nearly impossible to walk to school. She spent months in hospital having treatment and quickly fell behind with her education, which led to her dropping out of school.
Urmila's story is one we so often hear from women like her. In Nepal, women face many barriers when diagnosed with leprosy. Fear of stigma can lead to women concealing symptoms as they worry about the impact that a diagnosis would have on their education, marriage or family life. But the longer they hide the early signs of the disease, the more likely it is that it will cause lifechanging disabilities.
Young girls are often stigmatised and turned away from school because of leprosy. Coming from disadvantaged backgrounds and without a good education, they are very likely to grow up in poverty, putting access to a quality education out of their reach.
Research also shows that women are more likely to be rejected by their husbands because of leprosy than vice versa. Women affected by the disease often struggle with feeling that they're considered worthless, particularly when their disabilities prevent them from caring for children and looking after the home.
Breaking down barriers
Two years into the Heal Nepal project to find, cure and heal more people from leprosy, the team there has been focusing on finding 'hidden cases' of the disease – often in remote areas of the country where people don't have easy access to healthcare.
Leprosy Mission staff have found that many women feel uncomfortable about being physically examined by a male health worker or doctor. So gifts to Heal Nepal, which were doubled by the UK government through UK Aid Match, have enabled women volunteer health workers to be recruited and trained to detect the early signs of leprosy. A total of 3,011 women completed their training in 2021 and since then, 639 people have been cured of leprosy as a result of their work.
Many of them were taken to Anandaban Hospital for specialist medical care and rehabilitation. Some have had surgery to restore movement to hands, feet and eyelids damaged by leprosy. Others have been given mobility aids, including bespoke prosthetic limbs.
Urmila's path to healing
Late last year, Urmila had been managing as well as she could with her ulcer, but it was stopping her from working and keeping her confined to the house. Looking for help, she went along to a mobile health clinic in her local area, run by staff from Anandaban. There, they invited her to hospital for a course of treatment.
Thanks to your support, Urmila and many other women like her are receiving expert care at Anandaban. Everything changed for her when she began the pioneering Leukocyte and Platelet Rich Fibrin (LPRF) treatment, targeting her stubborn ulcer. After a month, the wounds on her feet are beginning to heal and she will be discharged in just a few short weeks.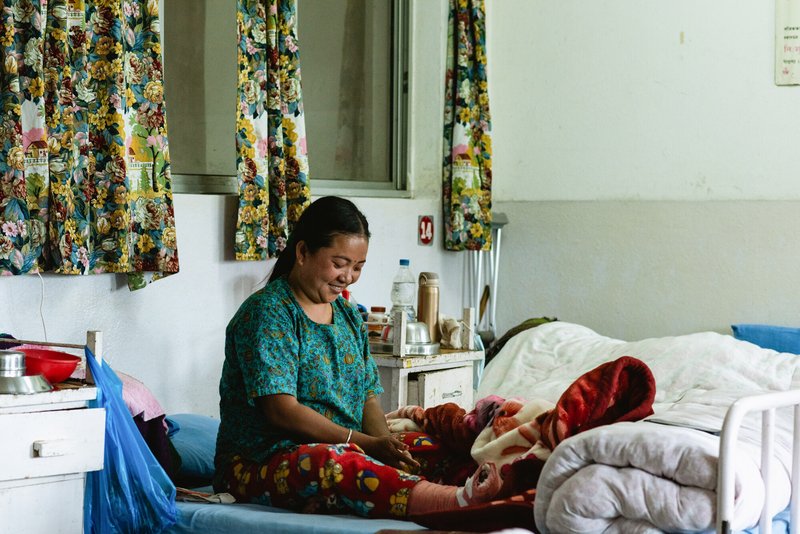 As we spoke to her, Urmila recalled how she had tried to continue going to school despite the disruption to her education, but from the age of 13, it became almost impossible to keep up regular attendance.
"It was very difficult to get to school as it was really far and I couldn't walk for long," she said. "I had to abandon my studies. I tried to do my 10th standard exam (taken by Nepali students aged 15 or 16) but kept failing. If I had got treatment earlier I could have completed my studies."
"Now there are innovative ways of treating our wounds, which I didn't know of before," said Urmila. "I have hopes that with these medicines and technology, I will be completely healed."
Striving for greater heights
Now aged 35, Urmila is looking forward to the future with hope again. She regrets not finishing school but is planning to rekindle her passion for learning by taking classes to learn about weaving clothes and shawls. Urmila's confidence in herself has grown while at Anandaban and her dream to open her own shop looks like it could be a reality for her.
Urmila is thankful to have had the love and support of her family to sustain her throughout her years of leprosy treatment. It will be wonderful for her to be able to count on their support as she works towards starting her own business. Many other women like Urmila aren't so fortunate and find themselves rejected by loved ones, fearful of what the future holds for them.
Today, on International Women's Day, we can give thanks for the staff and volunteers in Nepal who are doing so much to 'break the bias' of health inequality. Their dedication is making sure that women like Urmila have the best chance of physical and emotional healing and the opportunity to reach greater heights in life.
Thank you for helping to bridge the gap so that both men and women affected by leprosy have the opportunity to live their lives free from the physical and emotional toll of leprosy.