Dancing on Ice star talks about faith and helping others with disabilities live their dreams
GB Paralympian and Dancing on Ice 2022 competitor Stef Reid is campaigning for opportunities for people with disabilities living in some of the world's most disadvantaged communities.
The Paralympic long jump world record holder and sprinter took to the ice for the first time on 23 January, wowing audiences with her debut routine with professional partner Andy Buchanan.
Stef said: "This is the most fun I've ever had and yet probably the hardest thing I've ever done.
"Dancing or doing anything on ice is the last thing you'd expect an amputee to do. But as a long jumper I am gifted at falling. The coaches are always concerned about me landing and I keep having to tell them I'm not made of glass!
"I have a special prosthetic for skating but it was really hard at the beginning as I've never skated before so I didn't know what I needed or wanted from my new leg.
"It was a little disheartening initially because I didn't have any confidence putting weight on my artificial side and the thing with skating is that you have to be able to balance evenly.
"Ice dancing requires fine motor control over your feet and ankles and I only have one. So the balance aspect has been challenging.
"There's also the aesthetic element. I'm not a dancer and am not used to performing. When you long jump no one cares what you look like, it's just the distance. So it really is a whole new world but I'm loving it!"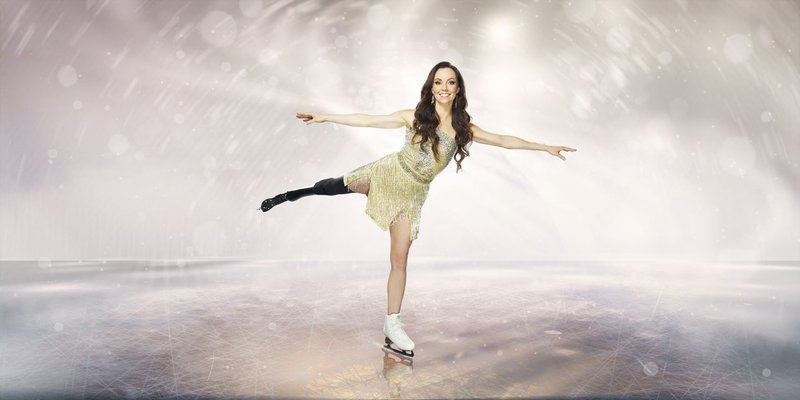 Stef is no stranger to pushing herself onwards and upwards to realise her dreams. As a sport loving teenager, it was her dream to play professional rugby. But a boating accident aged 15 changed the course of her life, both physically and spiritually.
Stef said: "I remember lying in the ambulance after the accident and feeling scared because I knew in my heart that I wasn't going to heaven. I did not know God. I remember praying for a second chance and I committed my life to God in the ambulance.
"It was a complete miracle that I survived the accident but I was devastated at the prospect of not being able to do sport. I said 'God why would you give me an ability and then take it away and let it be a waste?'. But he revealed to me that he put my drive for competition in me for a reason and I just needed to apply it in a different way.
"One of the things that got me through was daring myself to go to greater heights.
"For me this meant aiming for the Paralympics and going to university to study biochemistry.
"It was a trip to Nepal that made me incredibly thankful for the amazing opportunities I've had that helped me achieve my goals.
"Back in 2006, before the Paralympics came into most people's consciousness, becoming a sprinter with one foot seemed an impossible dream. But thanks to having amazing running blades and access to fantastic training, it became a reality."
Stef became Vice-President of The Leprosy Mission after a trip to The Leprosy Mission's Anandaban Hospital in Nepal. It was there that she spent time with people affected by leprosy, many of which, like her, have a lifelong disability. In her new capacity as Vice-President, she is spearheading The Leprosy Mission's Greater Heights campaign.
Greater Heights seeks to end leprosy in our lifetime by rebuilding a crumbling lab at Anandaban where a team of researchers are making scientific breakthroughs that have a global impact.
While there has been an antibiotic cure for leprosy since 1982, there are many challenges when it comes to diagnosing and treating people before they develop terrible disabilities. Leprosy is a disease of poverty and thrives in remote communities where there is little or no healthcare.
Scientific breakthroughs are needed in diagnostics and disability prevention so that people affected by leprosy can have the healthcare and opportunities that they deserve in life.
But the problem is that the lab is at risk of closing. It's too small, not fit for purpose and was severely damaged in the terrible earthquakes of 2015. It won't pass the upcoming Nepali Government inspection.
Without this lab, the chance to end leprosy in our lifetime will be lost forever.
Greater Heights seeks to build a new world-class Research Centre at Anandaban from which scientific breakthroughs and new treatments can be found to help end leprosy and lift people affected by this disease to the heights they deserve.
Stef says: "Because of my life experience I am passionate both about scientific research and the need to speed up medical discoveries at Anandaban.
"Visiting Anandaban Hospital in Nepal was an amazing and unforgettable experience for me. Many of the patients I met were amputees because their leprosy was treated too late. When they saw that I too was an amputee, there was an instant connection. Overriding any language barrier was an understanding that we had experienced similar pain.
"I have been blessed with opportunity and this is what I want for each and every person affected by leprosy and disability."
Stef met her husband Brent Lakatos, a Paralympic wheelchair racer, through Parasport. Like Stef, Brent suffered a serious accident as a youngster that left him paralysed. In Brent's case it was an ice skating accident. But despite ice skating changing the course of Brent's life, he was at the rink side last night proudly cheering on Stef.
She reflected: "Everything in life can be dangerous and I would never want to live constantly worried about the worst thing that can happen. When I told Brent I was doing Dancing with Ice he said 'Stefanie, you are nuts'. But that has nothing to do with Dancing on Ice, he just thinks I'm nuts in general!"
Find out more about the Greater Heights campaign