Darcey's holiday with a difference
Not many visitors to Mozambique choose to meet people affected by leprosy, but that is exactly what prima ballerina and Strictly Come Dancing star Darcey Bussell and her family did earlier last month, when they visited The Leprosy Mission Mozambique in Pemba, Cabo Delgado.
Darcey and her family visited the Association for People Affected by Leprosy (ALEMO) Centre in Pemba where they met people affected by leprosy who were learning new skills and trades and being supported to access health care and other services.
The Leprosy Mission partners with ALEMO, a Leprosy Affected Peoples' Organisation that provides people affected by leprosy with life-support skills such as training in self-care, farming, micro-finance and advocacy.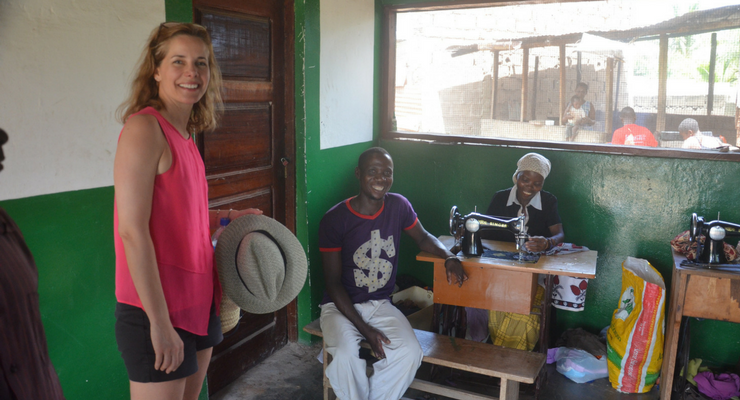 Darcey said, "we were amazed by the resilience and strength of the leprosy-affected people that we met, despite their having no material possessions and encountering such adversity through this debilitating disease. They told me that the support, care and understanding that they received from ALEMO and The Leprosy Mission was their life line; it was absolutely clear that this work is transforming."
Country Leader for The Leprosy Mission Mozambique, Dr Arie de Kruijff, said: "It was a great pleasure to show Darcey and her family some of our projects that are designed to empower people affected by leprosy. I hope that they have gained some real insights into our mission."
The Leprosy Mission is engaged in several major projects in Mozambique including one supported by UK Aid which works with ALEMO. It teaches people affected by leprosy self-care; how to take better care of their feet to prevent disability.  
One of the symptoms of leprosy is the loss of sensation in the hands and feet which means that people affected by leprosy don't feel any pain if, for example, they stepped on a stone and cut their foot.
Wounds that are left untreated can easily become infected and form ulcers which in turn, can lead to amputation. It is therefore critical that people affected by leprosy take great care of their feet and wear protective footwear.  
The ALEMO project runs self-care groups to teach people affected by leprosy to care for their leprosy-damaged feet.