Everyone has the right to be heard: Priya's story
Stuart Towell reflects on a recent visit to Sri Lanka and an encounter that will stay with him forever.
Having visited Sri Lanka this summer, it conjures up vivid memories for me of the hot and humid weather and amazing food I tried on my trip. But what stands out for me the most is the dedication of the staff I met and their work towards an end to leprosy.
As there are no Leprosy Mission hospitals in Sri Lanka, Rev Joshua, Deborah and the rest of the team work tirelessly and selflessly in local communities with one mission in mind –  to find, cure and heal people affected by leprosy.
Many people in Sri Lanka know very little about leprosy or its symptoms, but they are all too aware of the effects it has on the body. There is a lot of fear and stigma surrounding the physical affects of leprosy, so much so that many affected by the disease are rejected by loved ones and forced out of their communities. It is for this reason that many people with leprosy are left afraid and isolated.
I remember the day we met Priya. We got up early to travel to her home with Deborah and Rev Joshua. As we walked through a makeshift gate I was immediately struck by how this place did not feel like a home. As I looked around, I realised just how vulnerable Priya is. A few pieces of wood and wire were twisted together to make a fence. It is though she is on her own in her village, her home set apart from the others.
It felt quite lonely and isolating for her and as we began to talk with Priya, it was evident that she is at risk from so many things. Others can see her vulnerability and she explained that she worries about the danger posed by thieves and sexual violence. She and her children are also at risk from snakes that inhabit the area.
Priya shared with us how her small hut cannot withstand the weather during the monsoon season. Often in the middle of the night she has to huddle around her bed with her children, unable to sleep with water running into the hut. I keep coming back to the way she described her life there:
"This is how I live – we manage."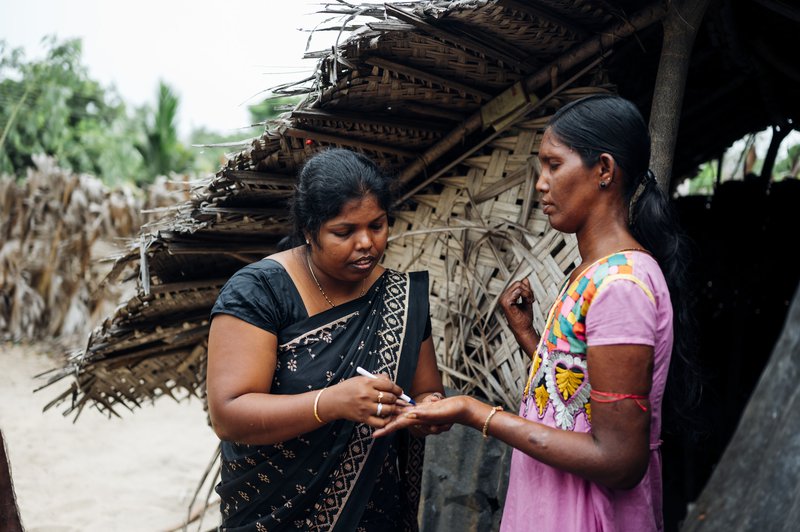 Deborah checked Priya for signs of leprosy and soon realised she had lost sensation in her hands and legs, meaning she cannot work and struggles to do everyday tasks like cooking safely. For so long, Priya has felt as if people do not care about her. It was heartbreaking to hear her say that she feels her voice goes unheard. Everyone has the right to be heard.
Meeting Priya really highlighted why the work of the team in Sri Lanka is so vital. She will now be cured of leprosy. but for people like her, their journey doesn't end there. Dedicated staff like Deborah and Joshua provide essential self-care training to prevent further damage and disability. They also provide leprosy education and awareness training to help communities welcome people affected by leprosy and combat prejudice.
For me, Priya's story will be one I remember when I think back on my trip to Sri Lanka. I hope her life will be transformed and that more people like her will get the care they need, helping to ensure a better future for them and that their voices are heard.