Fears for the welfare of ultra-poor leprosy-affected families hit by Cyclone Amphan
The Leprosy Mission is concerned for the welfare of the families it works with in coastal areas of Eastern India and Bangladesh.
Cyclone Amphan made landfall last night causing mass devastation leaving thousands homeless.
Amphan was the most powerful cyclone ever recorded in the Bay of Bengal with large-scale evacuation efforts in Eastern Indian and Bangladesh appearing to have saved many lives.
It is thought, however, it could take several days to realise the extent of the deaths and damage caused.
Millions of people were evacuated from fragile homes, typically constructed from wood and tin, ahead of heavy winds and rain lashing low-lying coastal districts of India and Bangladesh yesterday [Wednesday].
It began hitting the coastlines of West Bengal and southern Bangladesh, devastating communities including those in the Sundarbans, and Amtali sub-district of Bangladesh.
It then moved inland wreaking havoc in the major city of Kolkata in India's West Bengal and further into Bangladesh.
The entire area is well known to The Leprosy Mission and its partners who work to carry out skin camps and door to door screening in a bid to diagnose, treat and wipe out leprosy. Pictured below is Dr Helen Roberts carrying out screening on a family.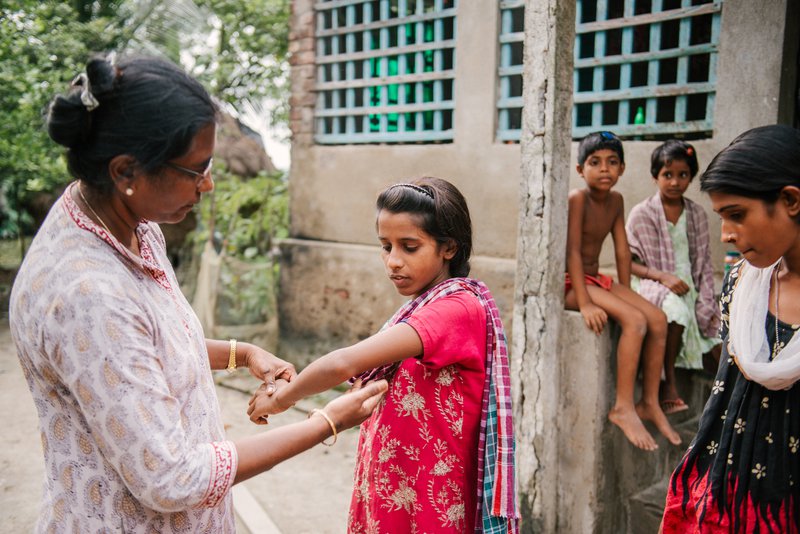 If left untreated, the ancient disease can result in devastating disabilities including blindness.
There is desperate poverty in the areas hit by Cyclone Amphan. Many communities having no access to healthcare whatsoever.
As a result The Leprosy Mission sends doctors with lifesaving drugs into the Sundarbans in West Bengal by boat to run regular pop-up clinics. More than 300 people attend each clinic.
James Pender, Programmes and Advocacy Officer for The Leprosy Mission lives in Peterborough but previously lived in Bangladesh, working for the Church of Bangladesh. His job saw him set up disaster management committees in some of the areas hit by Cyclone Amphan.
James said: "The Leprosy Mission is supporting partners in southern Bangladesh who are active in disaster preparedness and economic development in the communities that are vulnerable to cyclones and floods to identify new cases of leprosy and to integrate people affected by leprosy into their work.
"This is important as stigmatised groups or people with disabilities are not always able to use cyclone shelters, and marginalised communities are often neglected in relief efforts.
"Our support to these partners is ensuring people affected by leprosy are included in their emergency response and rehabilitation efforts as well as other programmes. Disability resulting from late detection of leprosy will also make them more vulnerable during cyclones and other disasters, making early diagnosis and treatment even more invaluable in averting this situation.
"People living in the cyclone-hit areas have already suffered so much. It is a disaster-prone area which is a driver of poverty.
"Unfortunately the effects of climate change such as warmer sea surface temperatures result in more powerful cyclones. And tragically it is the poorest of the poor that climate change impacts first.
"Leprosy is a disease of poverty fuelled by poor living conditions, lack of sanitation and overcrowding.
"This is why The Leprosy Mission and its partners know many of the families here. We are praying for them during this most difficult time and will do all we can to reach out to them."
There is concern for the spread of COVID-19 as people crowd into cyclone shelters to escape the storm. Both India and Bangladesh are under lockdown in a bid to contain the virus.