Funding from the UK Government's Foreign, Commonwealth & Development Office enables a lifesaving COVID-19 facility to open in Nepal
A Covid-19 isolation ward has opened at The Leprosy Mission's Anandaban Hospital thanks to a grant from the British government.
The hospital, in Nepal was instrumental to the country's disaster relief effort in 2015. This was when a devastating earthquake hit, killing 9,000 people and destroying or damaging a million homes.
The hospital's staff are once again responding to a new national crisis by, this week, opening a new 10-bed Covid-19 isolation unit. The new facility sees them equipped to care for 230 critically ill patients over the next six months.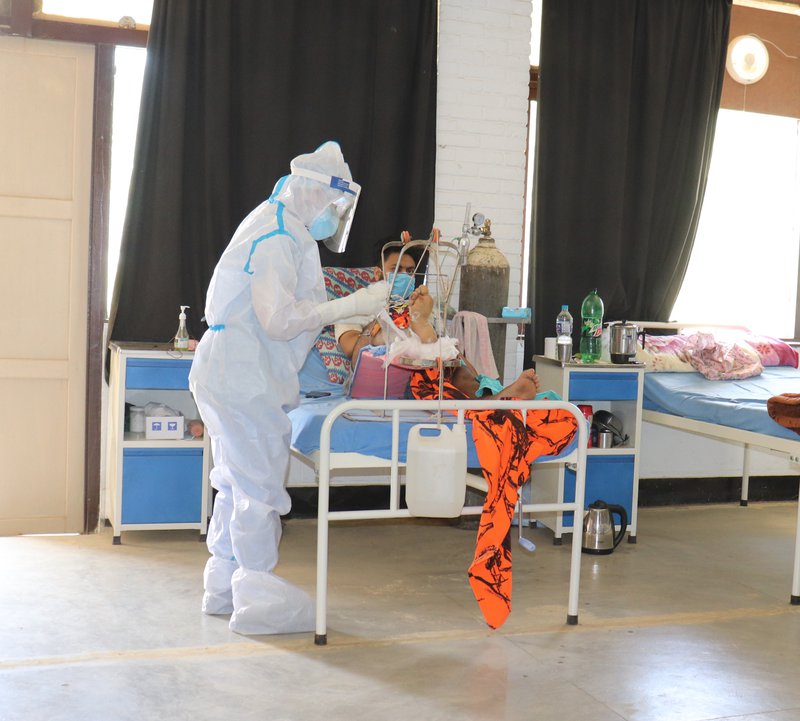 The lifesaving facility is made possible by a £200,000 grant from the UK Government's Foreign, Commonwealth & Development Office (FCDO). This money is being used to transform the hospital's existing hospital space into an isolation ward which includes a ventilator, four respirators and PPE for staff.
The salaries of three doctors, seven nurses and an ambulance driver are covered also, and the team will transfer from their leprosy work to be part of the coronavirus relief effort during the winter months.
In addition, staff will be supported to relay Covid-19 health messaging – for example, the importance of social distancing, good hygiene, the need to isolate with COVID symptoms - to 1,700 households in the remote, hard to reach mountainous areas of Nepal. Emergency food and sanitation packs are being distributed to the most vulnerable households also, many of which lost their income due to lockdown
A Covid-19 testing laboratory is already operational at Anandaban Hospital's research centre. It aims to support the community as well as protect people affected by leprosy and disability from Covid-19.
Heather Saranne, Programmes Officer for Nepal at The Leprosy Mission, said: "There are many parallels between leprosy and Covid-19. Both disproportionally affect people with weakened immune systems, residing in poor living conditions. Tragically, as a result of ignorance and fear, they are both stigmatised diseases in Nepal.
"We are trying to combat this through a large-scale awareness campaign. We have radio adverts going out with the message that leprosy is entirely treatable. The campaign encourages people to seek treatment when they suspect they have the early signs of leprosy. Crucially this is before they develop life-long disabilities, including blindness.
"We are now adding Covid-19 messaging to this and urging people to get in touch should they become ill. Many lives can be saved as a result.
"It is important to stress that stringent safety measures are in place at Anandaban Hospital and inside its ambulance. These are necessary to protect leprosy patients from the hospital's Covid-19 work."
The Government of Nepal designated Anandaban Hospital a Disaster Response Centre in the wake of the 2015 earthquakes. Since then, patient numbers have doubled to 40,000 a year.
Heather explained: "Suddenly the hospital hidden away in the mountains became a beacon of light, opening its doors to everyone. This really took the sting out of leprosy.
"As a result the staff worked incredibly hard to ensure that nobody was turned away. We have since recruited more medics to cope with the demand.
"But after the Covid-19 pandemic hit and lockdown measures were introduced, the number of patients at Anandaban has fallen.
"This stems from a reduction in public transport and a fear of going to hospital because of the virus. A loss of income tragically means people haven't been able to reach the hospital for treatment and services.
"As a result we are able to transfer members of our hardworking medical team to run the Covid-19 isolation ward and care for the patients.
"In the meantime the hospital's ambulance is now equipped to bring both leprosy and Covid-19 patients to Anandaban. Both sets of patients can then receive the clinical expertise, love and acceptance for which the hospital is renowned."
UK Aid Direct grant is a UK Government challenge fund. It supports civil society organisations to be a force for good in the world.
Its latest funding round supports charities on preparedness, mitigation, and response to the impacts of the COVID-19 pandemic. The Leprosy Mission's grant is one of 33 approved to be delivered in 16 countries.
UK Aid Direct supports civil society organisations working in the UK Government's priority countries and the 50 lowest countries in the Human Development Index. This is where support for achieving the Global Goals is most needed.