Jutlen's transformation
Helen Walton reflects on a very special reunion.
Do you remember Jutlen? Last summer, our appeal focused on Premananda Hospital in Kolkata, India, sharing his story. Jutlen was a 16-year-old boy alone in hospital, fearful for his future, in need of surgery on his hands and feet and deeply upset by the stigma he had suffered because of leprosy.
I, too, remember the day I met Jutlen, because it changed my life forever.
As I sat on Jutlen's hospital bed, looking at the harrowed expression on his face as he told me his story, I saw such pain and hopelessness that it has haunted my heart ever since. I wept for this young man, for the injustice he has suffered and for his pain.
His parents had died and his best friend had refused to have anything to do with him once Jutlen told him he had leprosy. Although he was cured of the disease, he was alone, disabled and scared for his future. I left his bedside that day full of sadness for him and for his situation.
As part of last summer's appeal, we asked you to send Jutlen and others like him your prayers and messages of support. It was wonderful to see the outpouring of love for this young man. Your good wishes for his future meant so much.
Returning to Kolkata recently, with a couple of hours to spare before my onward flight, I returned to Premananda Hospital. I was overwhelmed with curiosity as to Jutlen's whereabouts. Where was he? How was he? As I was escorted to the men's ward, I saw him. One of his legs was in plaster, indicating that he had recently had an operation – the reconstructive surgery he so badly needed to help him walk properly again.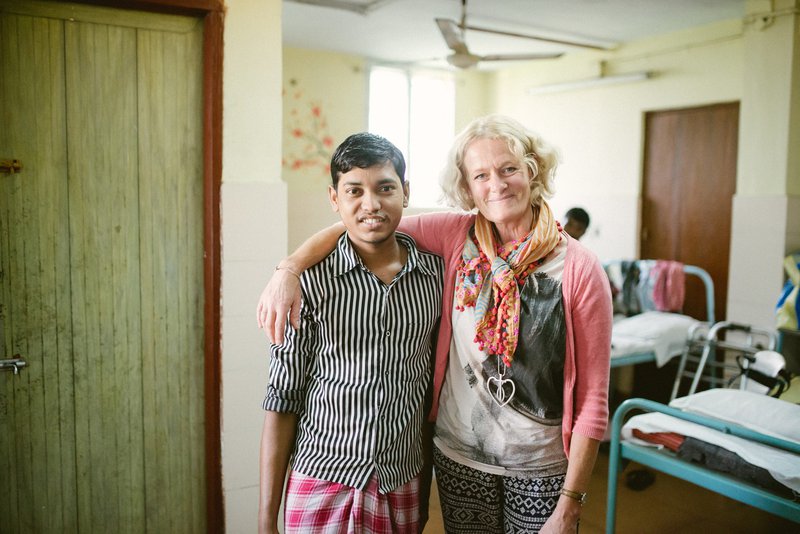 What I hadn't expected was the complete transformation that I saw. It wasn't just the physical transformation – Jutlen's smile was infectious; he was animated and excited to see me. Slowly he got off his bed, then knelt and touched my feet and knees, a gesture of thanks and gratitude.
Through the loving care he has received, all thanks to you, Jutlen has found hope again. In just a few short months his life has been turned around. He is healing from the effects of the rejection he felt and was looking forward to returning to education on leaving hospital.
When you supported Jutlen and others like him at Premananda Hospital, you helped turn a young man's life around. Because of your kindness, Jutlen has found new hope. I'm so thankful that I got the chance to meet him again and see this for myself - and I couldn't wait to share the news. As he rebuilds his life, please continue to remember Jutlen - as well as the other patients and staff at Premananda Hospital in your prayers.