Kate's Purulia Diary Part Two; "Lavanya's battle against leprosy had begun."
In late 2016, Kate Gent visited Purulia Hospital in West Bengal to see how Leprosy Mission staff are dealing with a huge rise in patient numbers there. Here, she shares her story.
Lavanya sat staring at her hands - this said it all. Her battle against leprosy had begun.
We sat in the counselling room at Purulia Hospital, a shared space with no privacy. Another consultation was about to start and there were people queuing nearby.  I felt flustered for her.
Even the word leprosy is enough to fill people here in India with dread.  But I admired Lavanya's courage in the face of adversity.
It took a huge amount of bravery for her to make the long journey back to the hospital to start her treatment and she was clearly feeling very anxious. I can see it in her eyes, her posture, as wrapped up in a cardigan and scarf, she clutches her hands together tightly.
She's experienced tingling and pain in her arm. There's a risk this could be signs of nerve damage from leprosy. Without close monitoring this could develop into serious problems, such as immovable clawed hands.
The doctor presses her elbow to test the nerves; he says they have thickened. This isn't good news.
He points out the pale skin patches, slightly faded but still numb. Leprosy must be so easy to misdiagnose without the skill and expertise of these doctors.
Lavanya's lips tremble: she needs further tests.  In a tiny room, the physiotherapist examines her palms and soles of her feet. With her eyes closed, she points out where she feels sensation.
Leprosy has caused greater damage than she thought. Although her hands are still reasonably flexible, she will need continued monitoring of the nerves and physiotherapy.
She says she is okay, but then she puts her head in her hands. Tears begin to roll down her cheeks. Self consciously she looks at me and when she saw my eyes fill with tears too, gradually, she begins to open up.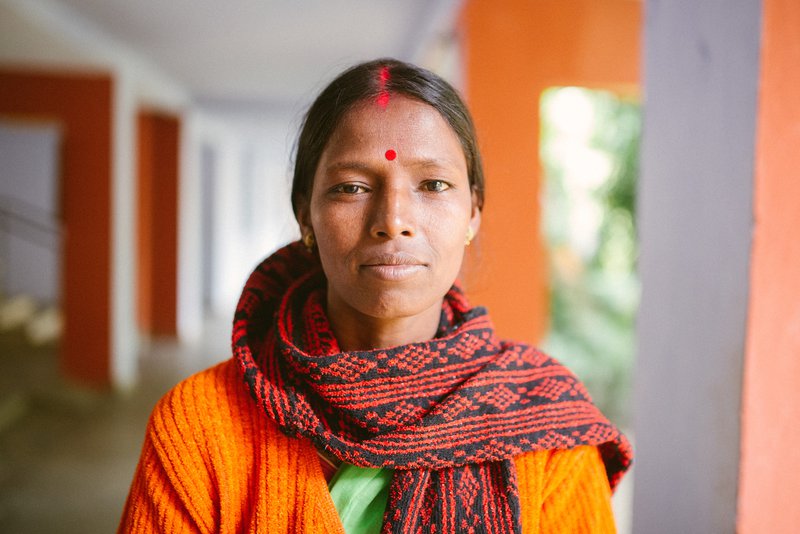 When Lavanya first found the numb patches, she tried homeopathic remedies.  After three months she came to Purulia, having heard of the hospital's reputation for skin and eye care, but her numbness was even worse by that point.
When she was diagnosed with leprosy she was really scared. Her husband seems supportive but he also tells her it's a bad disease so she shouldn't tell the neighbours about it.
She wouldn't dare - she's the only one with leprosy in the village. She will never tell her friends because she's too afraid she will end up alone.
Her biggest concern is that her husband could turn against her. They have two little children; her youngest has just started walking and her son has just turned five.  If he were to throw her out, how could she manage alone?
My heart went out to Lavanya, and I prayed that God would help me to help her.  As our only shared language, she lent me a gentle, sad smile and wiped her tears with her scarf.
After I had followed her through her outpatient journey, we shared a few moments near the central courtyard.
A little girl came toddling over, her tiny arms outstretched. Lavanya bent down and scooped her up.  Her eyes lit up: her baby girl was there waiting for her.
The road ahead is not going to be easy for this family. Although it's fantastic that Lavanya's got the cure and is in the hands of experts, there is still a lot for her to face. She will need Purulia Hospital more than ever, returning every month for her medicines, to learn physiotherapy exercises and to receive check-ups.
As our time together drew to a close, her little girl began rubbing her sleepy eyes, she turned her head and nestled into her mum, ready for their long journey back home - 60 miles from the hospital.
Even now I'm back in England, I think of Lavanya often. I'm so thankful that Purulia Hospital is uniquely placed in an area of India with high levels of leprosy.  But what weighs heavy on my heart is the strain this hospital is under.
There are so many more people who still need help and I would hate to see them turned away.  I owe it to Lavanya and her daughter to not let that happen. That's why I resolved to tell as many people as I can about my visit to Purulia. The hospital needs a new Outpatients' Department - and you can partner with The Leprosy Mission to make it happen.