Leprosy hospital in Himalayas is among the first centres to give the Covid-19 vaccine in Nepal
The Covid-19 vaccine roll-out began in Nepal on Wednesday 27 January with 169 frontline health workers vaccinated at The Leprosy Mission's Anandaban Hospital, on the outskirts of Kathmandu.
The Oxford Covid-19 vaccine, manufactured in India, was given to staff at Anandaban Hospital and government health workers working in the mountainous area surrounding the hospital.
Dr Pradip Sapkota, Anandaban's Medical Superintendent (pictured below receiving his first dose of the vaccine), who is leading the vaccine programme at Anandaban Hospital, said they planned to give the first dose of the vaccine to 860 frontline health workers by Sunday.
He said: "We are hoping for a 90% uptake of the vaccination.
"The second dose of the vaccine should be given between three and 12 weeks after the first and we are aiming to give it within four weeks.
"It's a big day here for all of us at Anandaban and we are very happy.
"We will wait to hear about the next phase of the vaccine roll out which will see the elderly, the vulnerable and frontline workers including police officers vaccinated."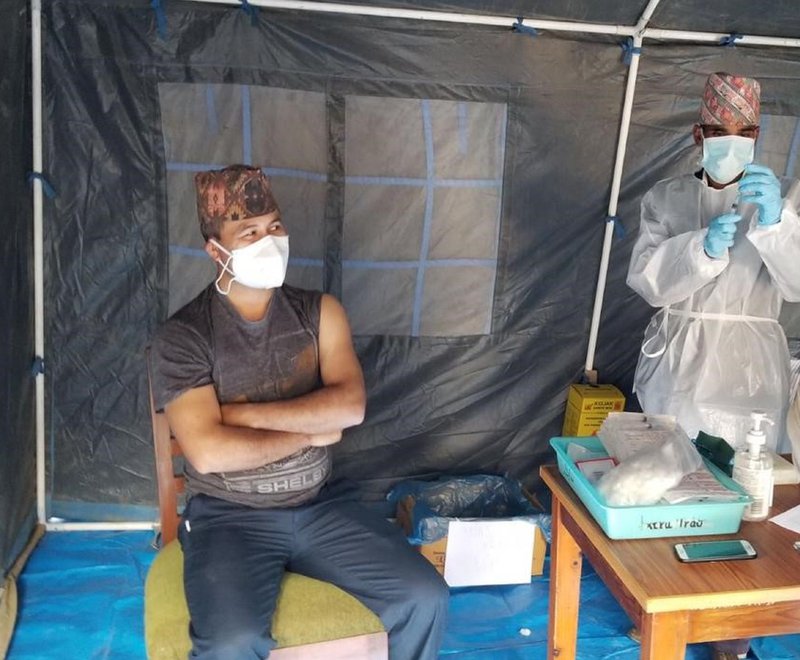 In October a 10-bed Covid-19 isolation ward opened at Anandaban Hospital thanks to a grant from the British government.
The isolation ward has already been used for more critically ill patients than expected with 250 patients receiving care to date. There has been one fatality.
The lifesaving facility was made possible by a £200,000 grant from the UK Government's Foreign, Commonwealth & Development Office (FCDO). It was used to transform the hospital's existing hospital space into an isolation ward which includes a ventilator, four respirators and PPE for staff.
The salaries of three doctors, seven nurses and an ambulance driver are covered with the team transferring from their leprosy work to be part of the coronavirus relief effort throughout the winter months.
Hospital staff have also relayed Covid-19 health messaging – for example, the importance of social distancing, good hygiene, the need to isolate with COVID symptoms - to 1,700 households in the remote, hard to reach mountainous areas of Nepal. Emergency food and sanitation packs have been distributed to the most vulnerable households.
A Covid-19 testing laboratory is already operational at Anandaban Hospital's research centre. It aims to support the community as well as protect people affected by leprosy and disability from Covid-19.
Nepal has reported 270,092 cases of coronavirus infection and 2,017 deaths from Covid-19.
The Leprosy Mission has worked closely with the Nepali government since it designated Anandaban Hospital as a Disaster Response Centre in the wake of the 2015 earthquakes which killed 9,000 people in Nepal. Staff at Anandaban Hospital gave emergency medical care to 2,000 earthquake victims.