The Leprosy Mission's interfaith network reaches 30,000 families with life-saving COVID-19 messaging
Governments are calling on interfaith networks to relay essential health messaging to hard to reach communities.
Having heard of The Leprosy Mission's success in finding and treating new cases of leprosy by establishing an interfaith network, the Sri Lankan Government requested that the network be used to communicate COVID-19 messaging.
As a result, Christian, Buddhist, Muslim and Hindu leaders have taken on the mantle of relaying advice on the symptoms of COVID-19 and the need to isolate. The importance of social distancing and regular handwashing is also taught.
Due to lockdown measures, the faith leaders are primarily focused on protecting their immediate communities from the virus and curtail its spread. People are reached with life-saving information by phone or in person where social distancing is possible.
A COVID-19 messaging system set up on WhatsApp now reaches more than 30,000 families, many of which are extremely vulnerable.
With the majority relying on daily labour to feed their families, the leaders have witnessed extreme hunger as a result of the lockdown. Many leaders have been moved to make and distribute emergency food parcels from their own pocket.
Peter Waddup, National Director of The Leprosy Mission, addressed a group of faith leaders at an interfaith leprosy awareness event in Batticaloa, Sri Lanka (pictured below) in the aftermath of the 2019 Easter Sunday suicide bombings.
Targeting the Christian community, a total of 269 people were killed. Tragically 31 lost their lives at the bombing of the nearby Zion Church in Batticaloa.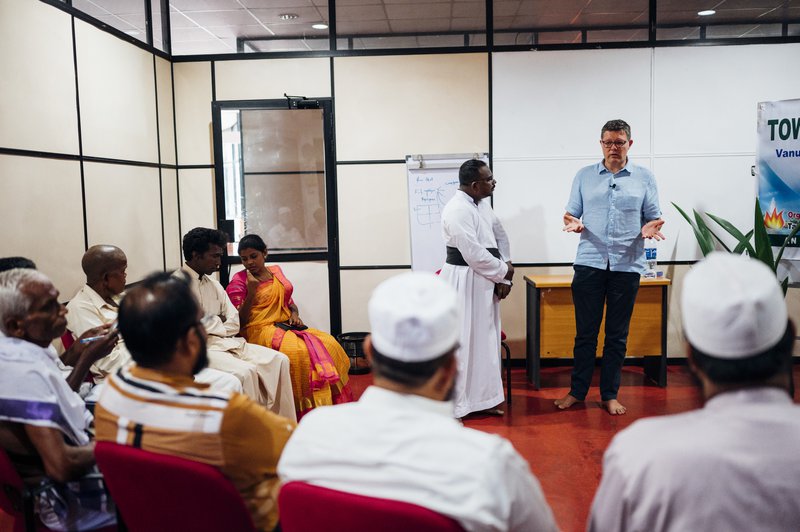 Peter said: "With faith comes a will to reach the most marginalised. And this is exactly what I witnessed when meeting an awe-inspiring team of faith leaders in Sri Lanka.
"I was visiting a nation recovering from decades of conflict. I was anxious that the Easter Sunday bombings would further threaten to divide religious and ethnic communities.
"But instead I witnessed an incredible peacekeeping mission. A real light in the darkness. The faith leaders had a steely determination to work together for the common good of reaching, finding and curing people of leprosy. Time is of the essence to find and cure these people before they develop life-long disabilities.
"I was so proud to hear the team had taken on the mantle of protecting their communities from COVID-19 with the same measure of passion and urgency."
Leprosy-affected communities are only too aware of the negative consequences of misinformation and myths. This is something each of the faith leaders has seen first-hand in their leprosy work.
"There are so many parallels," explained Peter. "The faith leaders' current mission sees them encourage people to show kindness to those infected with the COVID-19 virus.
"They are told to draw on the teachings of their religion to care for them and their families. They are also told to prioritise the poor, elderly and people with disabilities who are particularly vulnerable.
"On an entirely practical level, they are ideally placed to advise their community how to carry out religious rituals safely."
The Leprosy Mission's interfaith work began in 2014 when the team and its partners trained pastors and church leaders in how to recognise and treat leprosy. The idea was that they could offer practical help and advice after delivering a service, for example, on Jesus healing the man with leprosy.
Initially it was a project run throughout evangelical churches. But then other faith communities wanted to be involved from Anglicans to Catholics and then Buddhists, Muslims and Hindus.
The interfaith awareness events and leprosy awareness Sundays in churches in Sri Lanka have seen more than 10,000 people hear and learn about leprosy first-hand. The increase in awareness has truly taken much of the stigma away from the age-old disease.
As a result of this work 50 people were diagnosed and cured in 2019 alone, the majority of which were children.
Peter said: "The interfaith initiative is a perfect vehicle to reach marginalised communities, including leprosy-affected communities, whose lives are tragically most at risk during a pandemic.
"Thankfully the number of COVID-19 deaths in Sri Lanka has been relatively low. I do believe this is partly due to the Sri Lankan government's quick response and innovative thinking on reaching remote communities."