Low numbers of people treated for leprosy since 2020 are 'extremely concerning'
As new figures reveal the low numbers of new leprosy cases treated globally since 2020, The Leprosy Mission is calling for action to prevent the devastating lifelong effects of the disease.
New World Health Organisation figures show that the number of people treated for leprosy is down 30 per cent since the start of the Covid pandemic.
While there was an 8.67 per cent increase in the number of people treated for leprosy from 2020, it was hoped the 2021 figure would be significantly higher. There were 128,405 people treated in 2020, rising to just 140,594 in 2021. In comparison, there were 202,498 new cases recorded globally pre-pandemic in 2019.
The new figures are extremely concerning, particularly when considering research conducted pre-pandemic. This revealed that for every person treated for leprosy, there are 19 needing to be found and cured.
Leprosy is a disease that need not exist in the 21st century as there has been an effective cure since 1982. It is a lack of knowledge, stigma and a lack of healthcare that allow leprosy to cause irreversible disabilities today.
Covid pandemic prioritised
As in the UK, the Covid pandemic was the health priority for governments across Asia and Africa. This meant resources were directed away from leprosy services. Lockdowns imposed to curtail the spread of the virus saw millions of people globally unable to access even the most basic healthcare.
The new data confirmed fears that many people who would have been treated for leprosy in 'normal times' had been missed for too long. This is reflected in a stark rise in the number of new leprosy patients already with a permanent related disability.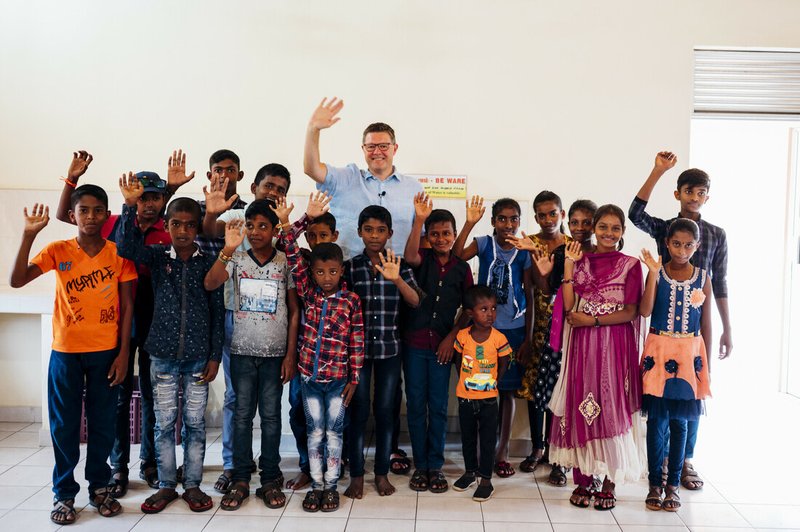 Chief executive Peter Waddup with a group of children in Sri Lanka who had all been treated for leprosy because of The Leprosy Mission's screening programme. Photo: Ruth Towell
While there was an 8.67 per cent rise in new cases of leprosy from 2020 to 2021, the disability rate on diagnosis rose by 15 per cent. This demonstrates a desperate need for more proactive case finding. The Leprosy Mission is doing all it can to find and cure the missing people before disability sets in. Its staff are training government health staff on leprosy detection. This is in addition to advocating for leprosy work to be part of mainstream health services.
Chief Executive Peter Waddup said he was very concerned for young people living in communities affected by leprosy.
The recent percentage rise in new cases of leprosy has not been matched in the number of child cases. In 2020 there were 8,462 children newly treated for leprosy globally, rising by just 4.53 per cent to 9,052 in 2021.
Peter said: "The bacterium causing leprosy multiplies very slowly which means a person may not develop symptoms for as long as 20 years.
"Children living in communities affected by leprosy are always on my heart. They are so vulnerable as they are usually too young to display any symptoms of the disease. Yet their futures are so unnecessarily difficult should they become disabled".
"I have had the real privilege of seeing our child screening programme in schools and vulnerable communities in Sri Lanka.
"There is the mixed emotion of seeing parents distraught by the news that their child has leprosy. They then learn that it is easily treatable and the fact they have been found and treated is really a good thing.
"I was so encouraged to see that 10 per cent of new leprosy cases found in Sri Lanka in 2021 were children which is undoubtedly a result of this amazing work. This was the highest child leprosy rate globally in 2021. But it is no bad thing! The more people we can find early, the quicker we can end this terrible debilitating disease once and for all."
In increase in the number of pop-up skin clinics
The Leprosy Mission has increased its number of pop-up skin clinics to find and cure new leprosy cases following the pandemic. The pop-up clinics are advertised as skin clinics as the first symptom of leprosy is often a skin patch. The main reason, however, is to encourage people who fear being seen at a leprosy clinic to come forward.
Peter said: "I am always amazed by the innovative ways my colleagues overseas are using to find people who so desperately need the cure for leprosy.
"In Sri Lanka and Bangladesh faith leaders have been trained in leprosy detection. This is so powerful as the voice of a person's Imam, Priest or any other religious leader is a trusted one.
"We are also leading PEP++ trials in Bangladesh. This sees contacts of a person newly diagnosed with leprosy given two doses of an antibiotic. This can prevent them from developing leprosy.
"Excitingly in communities across Asia and Africa, people who have been treated for leprosy themselves are now being trained to find new cases themselves. This is so powerful as they not only signpost people to a government health post for treatment, but they are there to support them. Having leprosy can be a terrible emotional rollercoaster and everyone needs someone to walk alongside them along the way."