The man who changed my mind about coconuts
On World Food Day, Stuart Towell reflects on a visit to Sri Lanka, where your support is enabling people affected by leprosy to develop sustainable sources of food and income through agriculture. 
There are so many foods that divide people's opinions: 'love it or hate it' foods. Maybe there is one that instantly springs to mind for you. Maybe it's coriander, olives or blue cheese (all of which I like but that I know people have strong feelings about!). A big contender in my house is mushrooms: my wife's not a fan, but I love them.
But what does this have to do with coconuts? Today is World Food Day, and it got me thinking about how I've had the privilege of being able to travel and try some amazing foods around the world – some that I've enjoyed, and some less so, despite people telling me that I was bound to love it.
For me, the best example would be fresh coconuts, specifically fresh coconut water. Many would say that drinking it here in the UK is not the same as having one freshly picked. But for me, even after trying freshly picked coconuts several times while overseas, I just didn't get the hype.
That changed the day I met Kunam, earlier this year.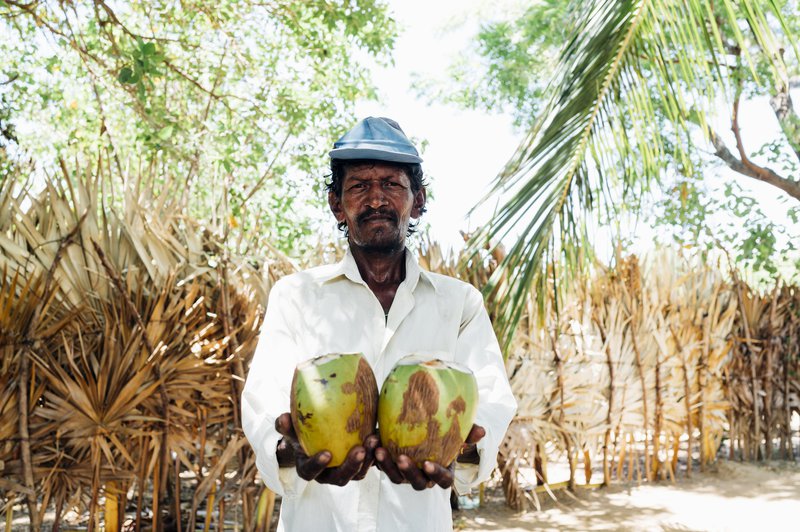 Kunam lives in Sri Lanka and is one of the members for the People's Forum for Change, a group of people affected by leprosy who are campaigning for change across the country to ensure that more people are diagnosed with leprosy and cured – and also to combat the stigma of the disease.
He was diagnosed with leprosy in 2015, when Leprosy Mission staff ran a screening programme in his village. Due to lack of sensation in his leg because of nerve damage, his leg got badly burned by the fire one evening as he slept. As a result of his burn his leg had to be amputated.
Kunam has now been cured of leprosy, as well as taught self-care, so that he can ensure that he doesn't suffer any further infections or burns. Thanks to your support, he has also been provided with coconut plants and agriculture training so that he can provide for his family.
As we were getting ready to leave, Kunam motioned to his son, who quickly scaled a palm tree and cut down enough coconuts for everyone to eat. I became a little nervous. One thing is for sure – I did not want to offend Kunam after he had been so generous to us.
Kunam's son cut the top off the coconut and handed one to me, motioning for me to drink. I raised the coconut to my lips and took a sip. Suddenly my preconceptions about coconuts were blown out of the water. It was completely different to what I was expecting. In fact, it was absolutely delicious.
It turned out this coconut had grown on one of the plants that was originally provided by incredible Leprosy Mission supporters too. It was such a privilege to be able to try one, and to meet Kunam and hear about his life. He is a man that uses his own experiences to help educate others to get treatment before irreversible damage happens.
I left realising that now my mind had changed. I now liked fresh coconuts – and that was all thanks to Kunam.
Photos: Ruth Towell/The Leprosy Mission