The Nepal earthquake: one year on
April 25 will be a difficult day for the people of Nepal - the first anniversary of the earthquake that claimed more than 9,000 lives and left many more people injured, homeless and without livelihoods.
For people with leprosy, who are often living with the additional challenges of disability and extreme poverty, the earthquake was a particularly heavy blow. But thanks to your generosity and the amazing response to our emergency appeal, as well as this year's Rebuild Nepal appeal, they now have hope for the future.
In the months following the earthquake, your gifts provided funds and materials to build temporary shelters - a huge relief for those who were forced to live under tarpaulin or even in the open air after losing their homes. You also helped provide emergency treatment at Anandaban Hospital that saved lives and helped people on their road to recovery with surgery, physiotherapy and counselling.
And now, thanks to your ongoing care and compassion, people like Krishna, pictured above with his two sons in front of the ruins of their home, will be able to start moving in to newly built homes after months of living in cold, cramped shelters.
"It would have been impossible for me in this life to build another house for my family," Krishna said. "I am so grateful to everyone who has helped. I will never forget the care that I got from the staff at The Leprosy Mission. My family will once again have a roof over their heads."
Your help over the past year has meant so much to so many people. Here are just a few of their stories.
Dhurba's house collapsed during the earthquake - and his wheelchair was crushed by the rubble. After receiving a grant to help he and his family purchase materials to build a temporary shelter, Dhurba was also given a brand new wheelchair.
Dev lost her home and only source of income in the earthquake - the goats that were her livelihood were killed by falling buildings. She desperately need a fresh start - she is disabled by leprosy and also primary carer for her husband, who is housebound. Thanks to a grant of 15,000 rupees, she has bought another goat and built a temporary shelter.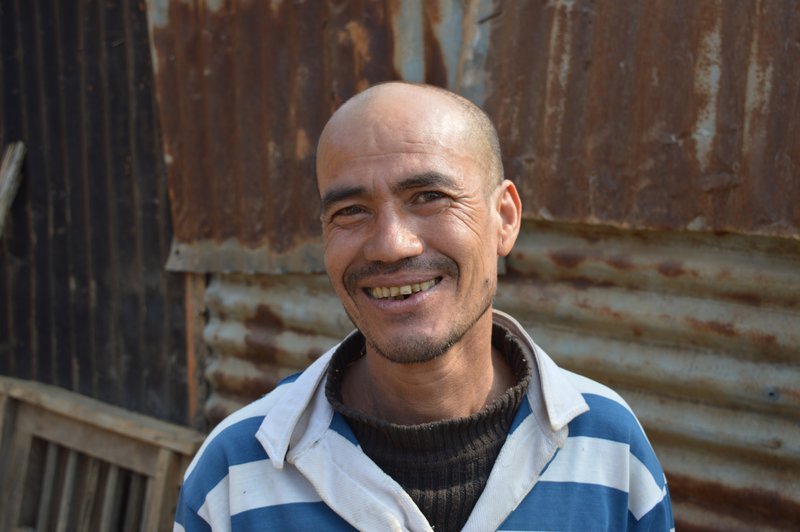 Ganesh, pictured above, and his wife Ganga have five children. Their whole village was destroyed in the earthquake. Ganesh was out working in the fields at the time and rushed home, thankfully finding that the rest of the family had been outside when the earthquake hit and were unharmed.
Ganesh has been receiving help from The Leprosy Mission from a long time - ever since he was first diagnosed with the disease at the age of ten. He  needs to wear special footwear and is supplied with shoes by Anandaban Hospital, making sure that his feet are protected from further injury. The family received a grant to build a temporary shelter last year. Now, thanks to your generosity, they will be able to look forward to a new permanent home.