Paralympian Stef Reid has prosthetic limb made for her at The Leprosy Mission's Anandaban Hospital in Nepal
GB Paralympian Stef Reid lost her right foot in a boating accident, aged 15. But despite her talent and tenacity seeing her fulfil her dream of becoming a professional sportsperson, she has a calling to encourage and mentor those struggling with disability as well as a heart for the marginalised.
So much so that she is currently taken time out of training for Tokyo 2020 to spend time with leprosy patients at The Leprosy Mission's Anandaban Hospital and see the work of the hospital's outreach.
In order that Stef, a Paralympic long jumper and sprinter, might literally 'walk in their shoes' she has had her state-of-the-art prosthetic foot replaced with one made in the hospital's workshop which makes prosthetic limbs for those who have lost limbs as a result of leprosy.
Stef, who lives and trains in Loughborough with her wheelchair racing husband Brent Lakatos, said the major difference in her 'new' foot was the more economic components and materials used.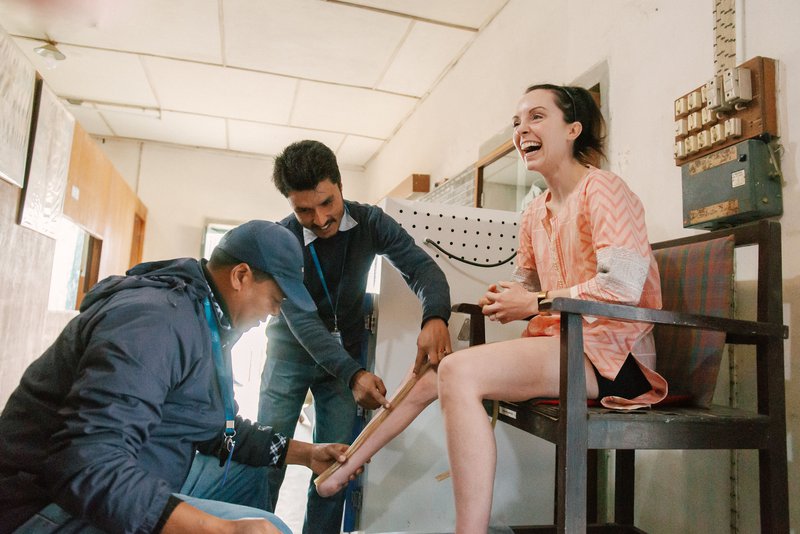 "A lot of the way they did the casting was really similar to what I experience in the UK, and this is bearing in mind I go to a very amazing private clinic," she said.
"You can always tell someone knows what they're doing by the way they interact with your stump, your residual limb. You can see the guys at Anandaban Hospital have done the casting many times before.
"But in many ways it was also really hard this morning and actually after seeing the things they make, I think I almost felt a little bit embarrassed about the leg that I have, in that my leg is so advanced and it does have the best technology. 
"It's amazing to see how great their casting is, they are doing everything right. It's just that hurdle of prosthetic legs just cost so much and that's hard to know."
Stef said her visit had been more rewarding than she could've ever imagined, meeting patients like Jyoti, whose home was destroyed in the 2015 earthquakes, which killed 9,000 people in Nepal, and who was diagnosed with leprosy while pregnant with her second child, Mala (now seven months). 
She said: "Before I travelled to Nepal I think there was that hesitation of 'I really hope I'll be able to communicate well and they are going to understand me.'
"But in the end it didn't even matter. I had people coming up to me just wanting to hold my hand. We just stood there and didn't really have to say anything at all!
"It was just an understanding that sometimes life is really hard and we all go through hard things. But there's still hope at the end of it. 
"Just from being here it has become so clear to me that it doesn't matter where in the world you are or what culture you are from, we all want the same things.
"We all want to provide a safe home for our family and want to be healthy and part of a community.
"But leprosy is a really hard disease on so many fronts and not just because of the health problems it causes. 
"But we have seen that sometimes the things that can be most difficult is the loss of community and stigma associated with leprosy.
"There is unfortunately a lot of stigma associated with the disease and one of the most upsetting things is that sometimes people view it as 'you've got this disease because you have done something wrong, you have done something sinful'. 
"I can't even imagine having to deal with that reaction from neighbours; that somehow this is your fault and 'you deserve this' which is so untrue.
"I have been so impressed by the response of The Leprosy Mission. It is not a case of 'we're going to give you some medication, we are going to offer you some support and some surgery if you need it and then send you on your way' because that's not the way to heal people. There's is a full-on holistic approach. 
"They understand that it doesn't matter if you fix the body, if you don't change the views of the community; if you don't ensure that people are independent financially that they are able to take care of each other then it's just not going to work. This is what long-term care looks like."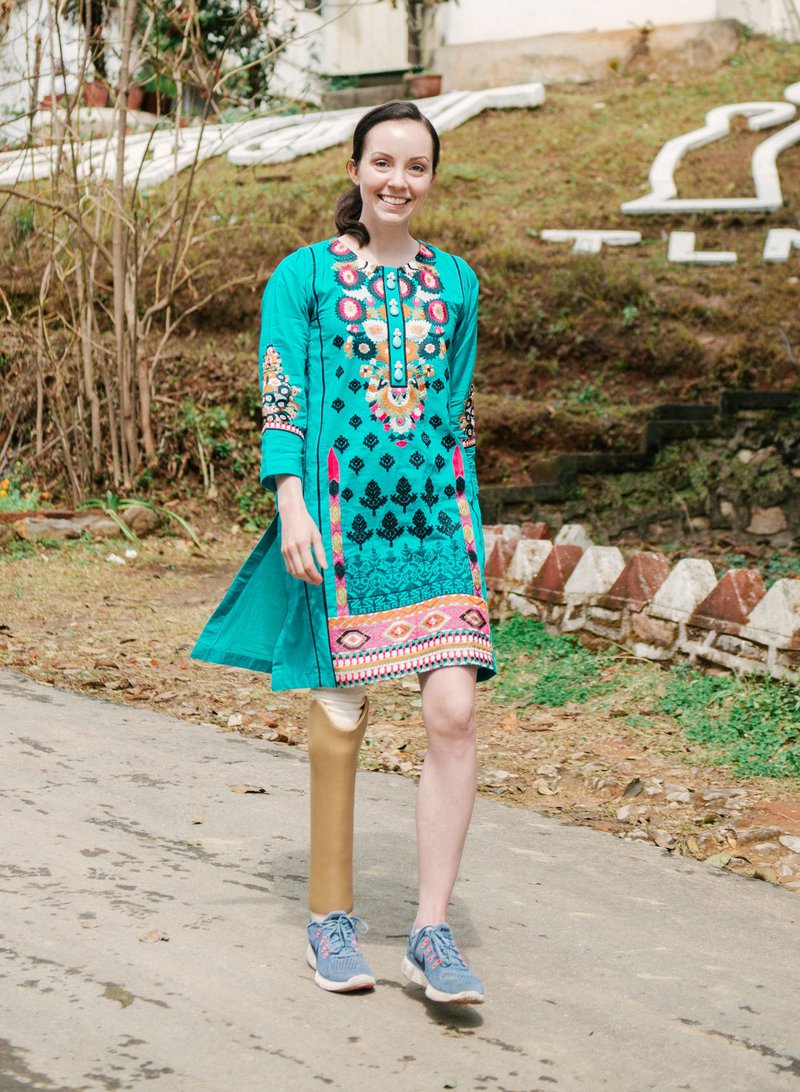 Anandaban Hospital in Nepal was designated a Disaster Response Centre by the Government of Nepal in the wake of the 2015 earthquakes, after it reached out to 18,000 earthquake victims, as well as leading the world's fight against leprosy. In addition to being the national specialist leprosy referral hospital for Nepal, it is an International Leprosy Training Centre training doctors and surgeons globally and a world-class research centre partnering with the best researchers in its field, including those at the London School of Hygiene and Tropical Medicine.  
Heal Nepal will find, cure and heal people with leprosy in a bid to rid the country from this ancient disease. This means reaching people with leprosy through outreach teams before they develop permanent disabilities or caring for them for months at Anandaban Hospital while their wounds heal and they undergo life-changing surgery.