Pope Francis' call to remember the 'forgotten people' on World Leprosy Day
The Leprosy Mission's Chief Executive said Pope Francis' words at the Vatican's recent Leprosy Symposium were 'for every supporter of the charity'.
Last week, the Pontiff told an audience at the Vatican that they are like the Good Samaritan 'who stoops to care for the weakest and to restore to them the rights denied to them, and their dignity'.
People affected by leprosy took part in the symposium in Rome as well as leprosy organisations including The Leprosy Mission. Chief Executive of The Leprosy Mission Peter Waddup praised the wise words of Pope Francis and his call for leprosy to 'leave no one behind' today.
"Pope Francis reminded us that not only has leprosy become a forgotten disease, but people affected by leprosy have become forgotten people," said Peter.
"The Pontiff's words really touched the hearts of my colleagues globally.
"What struck me on hearing Pope Francis' words, however, were the actions of The Leprosy Mission's loyal and faithful supporters. These are people giving sacrificially and faithfully to help people who they are never going to meet. They are incredible people who are following Jesus' example of giving physical, emotional and social healing to people with leprosy.
"I have had the privilege of seeing my colleagues overseas carrying out this work in the name of Jesus. But Pope Francis' words reinforced to me that our supporters are giving without the 'reward'. They are unlikely to ever see, first-hand, the fruits of their generosity. But they are an answer to the prayers of the Pontiff and our staff globally who care for these precious people living on the fringes of society.
"I thank God for our amazing supporters every day. I wish I could transport each and every one of them to Asia and Africa to meet the people whose lives they have changed for the better."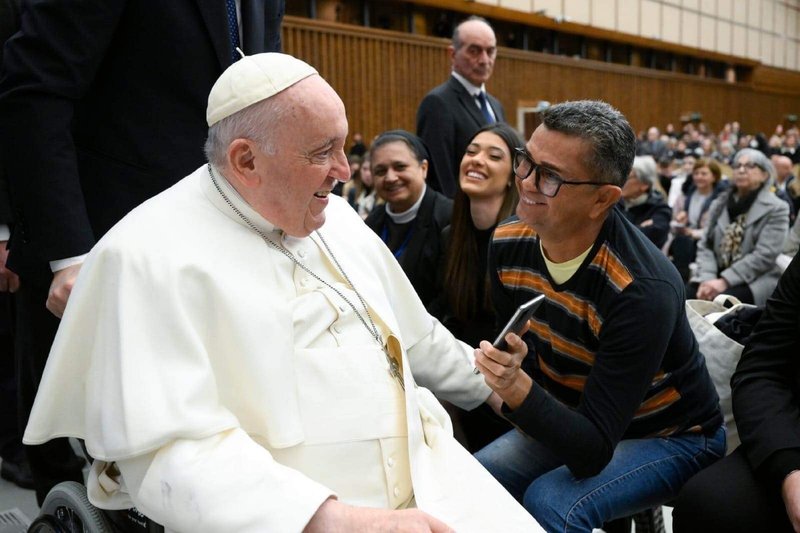 Faustino Pinto, who is affected by leprosy, meets Pope Francis
The Vatican's Leprosy Symposium was held to mark the seventieth World Leprosy Day on Sunday.
Brent Morgan, International Director of The Leprosy Mission, told the symposium that there are 123 laws in place that discriminate against people affected by leprosy. He said that these laws needed to be repealed and that The Leprosy Mission was happy to draft new legislation to assist governments to do this.
Faustino Pinto, who has been cured from leprosy, said it was with a mixture of sadness and great joy that he was attending the symposium.
He said: "The hands, feet, skin, eyes and nerves are all seen as a disease. But the pain, desires and anxieties of people affected by leprosy make leprosy so much more than a disease."
Pope Francis said: "Leprosy is one of the most ancient diseases in human history. Even the Bible, alone, is not enough to remind us that stigma linked to leprosy continues to cause grave violations of human rights in various parts of the world.
From all the progress we have made, we are still illiterate when it comes to accompanying, caring or and supporting the most frail and vulnerable members of our developed societies. We have become accustomed to looking the other way, passing by, ignoring situation."
The Pontiff has previously demonstrated his heart for people affected by leprosy by visiting leprosy colonies in Chile and Peru.
In 2019 he put the late British missionary John Bradburne, who was murdered by Robert Mugabe's troops for defending a leprosy colony in Zimbabwe, on the road to sainthood by the Vatican.