Rehabilitation and leprosy: a neglected discipline for a neglected disease
Last month, the World Health Assembly committed to improving rehabilitation services across the world. We reflect on why these services are so important for people affected by leprosy, and why they must be included in global efforts on rehabilitation.
A vital part of leprosy care
Like leprosy, rehabilitation is a neglected part of global health. But what is it? It's care that helps people to do daily activities as fully and independently as possible. For people who have experienced disability, injury or reduced functioning for any reason, rehabilitation is transformative.
Without early treatment, leprosy leads to permanent disability. Nerve damage causes people's fingers to claw, and foot drop makes it hard to walk. The disease can also cause blindness and painful ulcers. For some people, once the bacteria has spread to their bones, amputation is the only way to save their life.
Without treatment and care, people lose work and livelihoods, and face ever deeper poverty and vulnerability. Children who can no longer grip a pen may see their opportunity to get an education vanish. When people lose their income and independence, it can leave them feeling anxious and depressed.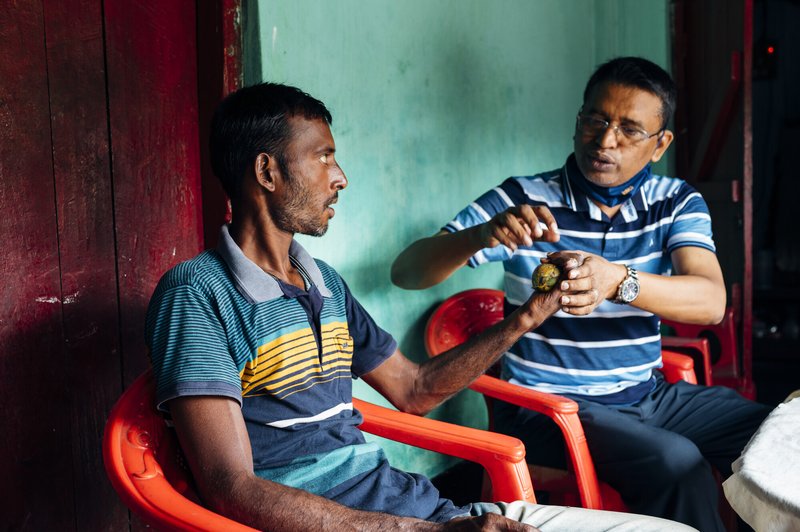 When Protap could no longer work because leprosy affected his hands, his world shrunk to a single room. Physiotherapy helps protect mobility, and is an important step in preparing for reconstructive surgery.
Rehabilitation services can ease pain and prevent further injury. But the impact also goes much further than the physical. Physiotherapy brings new movement to clawed fingers, enabling people to keep working and make a livelihood. Prosthetics and mobility aids bring independence, freedom, and dignity. Protective sandals help people walk without fear of injury. In short, rehabilitation gives people the opportunity to live life in all its fullness.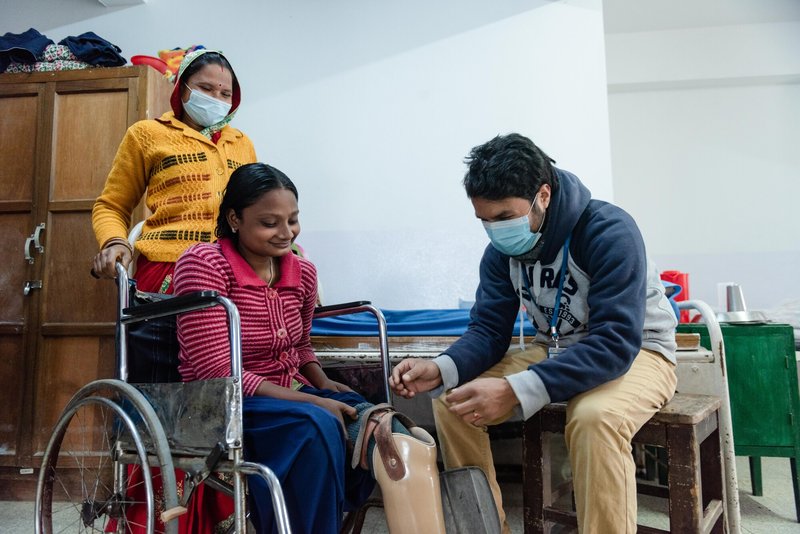 After leprosy reached her bones, Shakti needed to have a below the knee amputation at Anandaban Hospital in Nepal to save her life. At Anandaban she also received a prosthetic leg, keeping the doors to her future education open.
A global resolution
The case for rehabilitation is clear. We can't achieve zero disability without it. But too many people affected by leprosy and with disabilities cannot access it.
In a global resolution announced last month, the World Health Assembly highlighted the global crisis in access to rehabilitation. WHO and Unicef estimated that in some low-income countries, coverage for rehabilitation services is as low as 3 per cent.
There are many reasons why: lack of global expertise, lack of funding and policy attention, and lack of awareness about its importance. In an all too familiar story, vulnerable and marginalised people are the most disadvantaged. They are left to cope without the care that so many of us take for granted. The parallels with leprosy elimination are striking.
We're thankful for the new global resolution and commitment to expanding access to rehabilitation. We also welcome the commitment to ensuring marginalised people can benefit from rehabilitation.
But to realise the vision of affordable and accessible rehabilitation, we need investment.
More rehabilitation professionals need to be trained, particularly in low- and middle-income countries. Developing assistive devices, such as prosthetics and mobility aids, that can be made locally should also be a priority. Visit the Chanchaga Orthopaedic Workshop in Nigeria, or Anandaban Hospital in Nepal, and you'll see people affected by leprosy getting custom, locally made prosthetics. More centres of expertise like these will bring assistive technology even closer to the people that need it.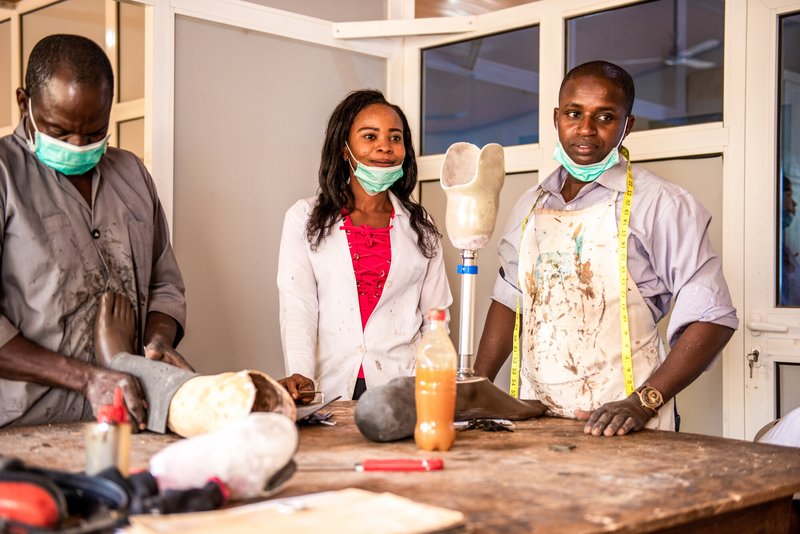 We're bringing rehabilitation into communities through self-help groups, where members learn how to prevent injury and care for wounds. But too many people still need specialist services only currently available at distant hospitals. Rehabilitation must be part of universal health coverage, so people can access the healthcare they need locally.
People affected by leprosy and people with disabilities, who are so often stigmatised and pushed out to the margins, deserve dignity. Rehabilitation helps them achieve it. It enables people to get an education, have a livelihood, and enjoy community life. It brings opportunities and freedom.
We look forward to seeing the future global progress and collaboration towards better access to rehabilitation. We believe everyone should have access to the healthcare they need to thrive. With commitment and investment, this new resolution will bring us a crucial step closer to this vision.


Photo 1 © Ruth Towell
Photo 2 © Sabrina Dangol