Wheels that Heal: people affected by leprosy, disability and those displaced by Boko Haram celebrate the arrival of medics and medicines
A mobile health clinic touring communities affected by leprosy, disability and terrorism has been welcomed with open arms.
For the first time, residents of the three disadvantaged communities in Nigeria's Federal Capital Territory Abuja will be able to see a doctor locally and receive medicines free of charge. The life-changing Wheels that Heal project has been made possible by a grant from the government of the Isle of Man and donations from the people of the Isle of Man.
It enabled The Leprosy Mission to buy a van and kit it out with ramps, steps, awnings and partitions. Medical equipment has been purchased including thermometers, weighing scales, blood pressure monitors and blood sugar testing devices. The mobile clinic is stocked with dressings for leprosy-related ulcers and a range of medicines.
The Leprosy Mission has provided two specialist doctors to staff the mobile clinic. The charity has worked closely with the Nigerian government which has supplied two nurses and a pharmacist to help.
Joanna Nwosu is Nigerian and works for The Leprosy Mission based in Peterborough, Cambridgeshire, as Deputy Head of Programmes.
She said: "I have visited these three communities and they are very disadvantaged in terms of living conditions and access to healthcare. They are home to people who have been through a huge amount. The displaced people's camp has formed in the past five years as a result of Boko Haram attacks in the North East of Nigeria. The people in all three communities have faced enormous challenges, emotionally and physically.
"Residents of all three communities are very much at risk from ill-health, including leprosy, because of overcrowded and basic living conditions. Healthcare is currently limited to local clinics or primary care posts staffed by nurses. Medicine is particularly scarce and must be paid for. This is with the exception of Multidrug therapy, the cure for leprosy, which is provided by the World Health Organisation through a partnership with Novartis.
"The people living in these communities have very little money. There are major obstacles in accessing even the most basic healthcare such as the cost of travelling to a clinic. Then there is the added headache of physically getting there for those struggling with a disability.
"A referral to a specialist doctor from a nurse at a primary care post in the leprosy village of Yangoji, for example, would result in a costly 40-mile trip into the capital Abuja. So, Wheels that Heal is desperately needed to bring doctors to people living in these three communities, which total almost 8,000 people."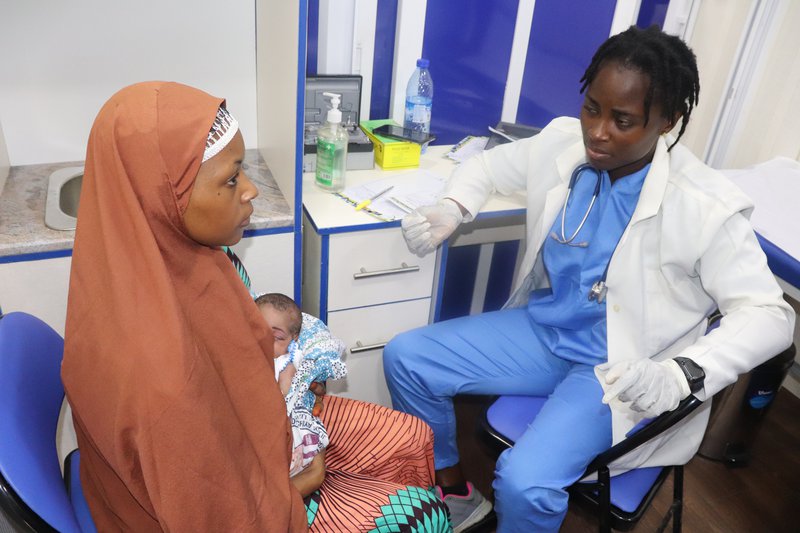 Constance Izere, a Programmes Officer for The Leprosy Mission Nigeria said: "Villagers are excited to have this mobile clinic in their community. This project, which is one of magnitude as well as being one of its kind, has been implemented with funds from the Isle of Man. Healthcare is provided free of charge to the patients. Everything from the record cards to the drugs to the medical supplies is free of charge."
Mariam Saidu, a young mother living in the leprosy village of Yangoji, said: "Our parents, our children and our siblings were given treatment and medication.
"We are grateful and happy that we brought our kids here. May God reward them."
Federal Capital Territory Abuja is one of the three Nigerian states still under a partial 'lockdown' as a result of coronavirus.
As a result, the weekly mobile clinic to each of the three communities is temporarily suspended.
The Leprosy Mission has permission from the Nigerian government to continue to provide services during lockdown. It is currently working to secure Personal Protective Equipment for the medical team with a view to the mobile clinics resuming in June with social distancing measures in place.
Joanna added: "It is such unfortunate timing just after the launch of Wheels that Heal but obviously Covid-19 is something the whole world is battling currently.
"We have further plans for Wheels that Heal in the next year including mental health counselling and eye care.
"We are so grateful to the people of the Isle of Man for allowing us to make such a big change to people's lives."
Chairman of the Trustees of The Leprosy Mission Isle of Man, Paul Halliday, said: "I never cease to be amazed by the generosity of the Manx people.
"Churches, schools and fellowship groups have all made this wonderful life-changing initiative possible. I pray for its continued success."