Why U Soe Win inspires me
James Pender, Programmes and Advocacy Officer (Asia), first met U Soe Win on a visit to Myanmar in 2016. Ever since, he's been inspired by the way he works to effect change in his community.
We all have people we admire, whether they are well-known figures from the past or individuals from the present. They are important in our lives as they inspire us to keep going, overcome hurdles and press on towards the vision God has given us.
The person that has inspired me most since I joined The Leprosy Mission five years ago is U Soe Win. This is partly because I have got to know him a little better than some of the other people I have met overseas, having met him on three visits to Myanmar. I also had the chance to spend a week with him at a meeting recently. There's a picture of him in the entrance area of our office in Peterborough, so I'm reminded of him every day when I come to work.
U Soe Win is a man who is very visibly disabled as a result of leprosy. He suffered terribly both from the disease and from the stigma associated with leprosy after being diagnosed in 1983. As a result, for many years he isolated himself, locking himself away at home to avoid the pain of people treating him unkindly when they saw his leprosy-affected hands and nose.
U Soe Win is not an inspiration to me because he has overcome social prejudices and now lives a 'normal' life in his village. Too often, it can seem patronising when disabled people are praised for 'being able to cope with living a normal life'. Why shouldn't they have that chance?
No, I admire him because he is an exceptional individual by anyone's standards. He's an effective leader, heading up the disabled people's organisation in his village that has now expanded and set up groups in neighbouring areas.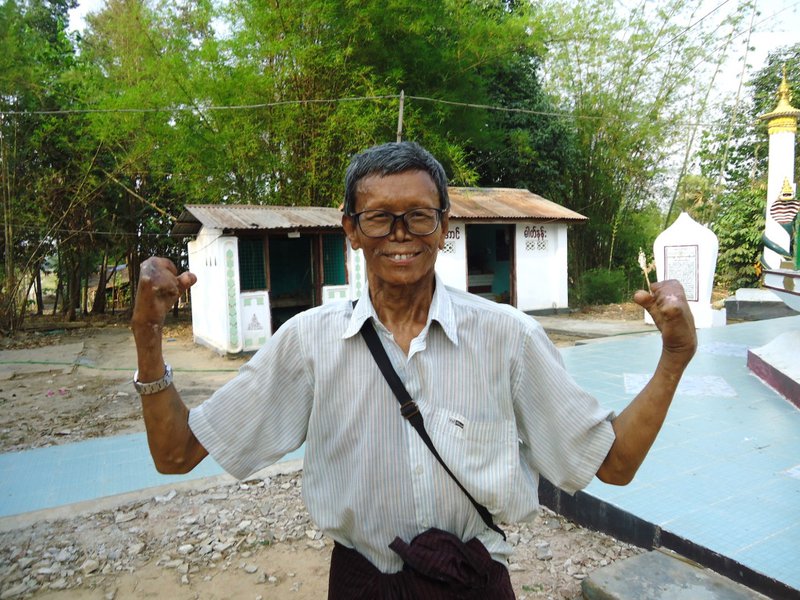 The group has successfully petitioned the local council to make public facilities more accessible – for example, installing a ramp at the local school, which not only helps disabled children but also enables disabled adults to vote, as the school is used as a polling centre during elections.
U Soe Win is also a champion for the rights of others. When a young woman in his village was raped, he helped find the perpetrator and when the case stalled, he personally met with the judge involved to see that it progressed to a regional court, ensuring that the man responsible was jailed.
And his influence now extends beyond his local area. His hard work on behalf of his community, along with his positive attitude, has meant that U Soe Win has now had the opportunity to attend national and international conferences, speaking on behalf of people affected by leprosy.
It has been wonderful to see U Soe Win use his skills to become such an advocate for so many and I'm privileged to know him.