Global Recipe Club: Beef Tibs from Ethiopia
This month your authentic recipe comes from Ethiopia, a distinctively beautiful and culturally rich country in Africa.
As you will have seen on the news, people living in poverty have been most affected by the COVID-19 pandemic. Ethiopians have also had to face civil unrest and terrible atrocities over the past year. Supporters like you are essential to supporting these communities through these challenging and frightening times and providing hope for the future.
As a regular supporter of people affected by leprosy, you are part of a great team in Ethiopia. You are providing healthcare, advocating for leprosy-affected people's rights and training in sustainable livelihoods to prevent hunger.
This meal is part of every special occasion in the communities we work in. Tibs is one of the most popular dishes in Ethiopia and uses sautéed meat pieces to make a rich and spicy stew.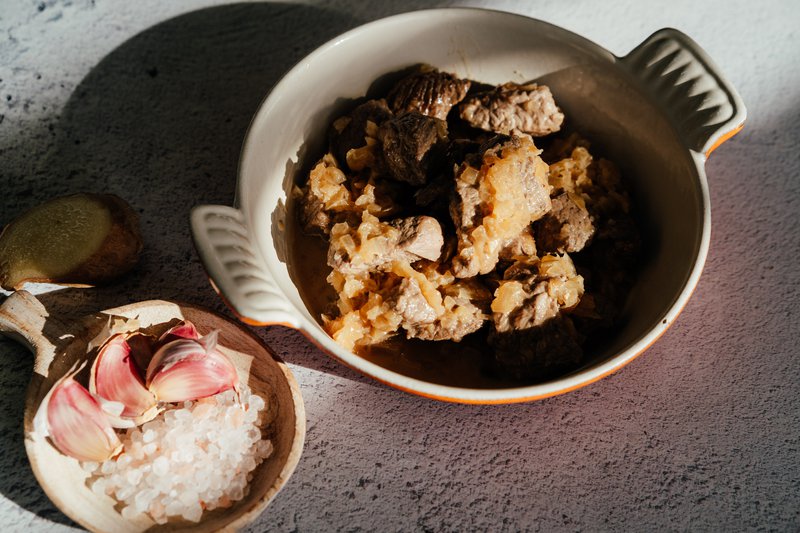 Ingredients you'll need
This recipe serves four people. You could make it vegetarian by substituting the beef for chopped portobello mushrooms.
2 tbsp unsalted butter
2 medium onions, chopped
3 inch piece of ginger, minced
1 lb beef sirloin, cut into 1 inch cubes (or 4 portobello mushrooms)
1 tbsp sunflower oil
1 tsp lemon juice
2 tbsp berbere (see below)
2 tbps Kosher salt (or ground sea salt)
To make the berbere seasoning:
½ tsp fenugreek
3 tbsp chilli powder (adjust to your spice preference)
3 tbsp paprika
1 tbsp salt
1 tsp ginger
1 tsp onion powder
½ tsp ground cardamom
½ tsp ground coriander
¼ tsp nutmeg
¼ tsp garlic powder
¼ tsp ground cloves
⅛ tsp ground cinnamon
⅛ tsp ground allspice
½ tsp ground black pepper
If you wish, you can buy Berbere seasoning from your local supermarket in the world food aisle, but homemade always tastes better!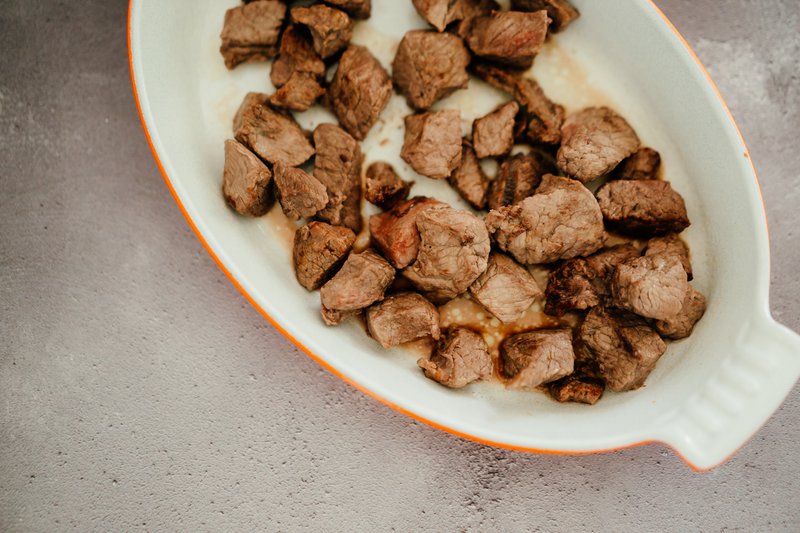 Method
Melt the butter in a large saucepan on medium heat. Fry the onions with ginger, garlic and the berbere seasoning. Sauté on medium heat until the onions are soft and golden brown.
Transfer the onion mix to a food processor and blend until almost pureed. Return to the saucepan and keep warm.
If using meat, add the beef pieces to a bowl with 2 tbsp kosher salt and mix thoroughly until the beef is covered. Add more salt if required. Next, heat the oil in a skillet over high heat until lightly smoking. Add the beef cubes in a single layer (fry in batches if you need to). Cook until well seared (about 3 minutes) and turn over with tongs. Continue to cook on each side until the desired level of cooking is complete. For rare meat, cook each side for 3 minutes and transfer to the saucepan. For medium, cook for an additional 1-2 mins. For well done, up to 5 minutes.
If using mushrooms, blanch the mushroom quarters in boiling water for 4 minutes, ensuring they are consistently submerged.
Toss the beef or drained mushrooms into the warm sauce and heat for 3 minutes. Stir in the lemon juice.
Serve immediately with rice or your favourite bread.
Find out more about our work in Ethiopia