Emergency aid reaches disabled people stranded in war-torn Ethiopia
Emergency aid is reaching disabled people stranded in war-torn Ethiopia during the country's worst famine in 40 years.
Leprosy Mission field staff in the vast Amhara region of the country are desperately concerned for people affected by leprosy who are left stranded and unable to escape the recent conflict.
The Amhara region has been at the epicentre of the violence between the Tigray People's Liberation Front (TPLF) forces and the Ethiopian government.
The conflict, which began 18 months ago, has caused widespread destruction in Tigray and its neighbouring Amhara and Afar regions. This has led to more than two million people being forced to flee.
Among those not even privileged enough to escape the violence is 65-year-old widow Hidiya. Hidiya was treated for leprosy and cared for at the Boru Meda Hospital in Ethiopia, a government-run clinic supported by The Leprosy Mission. Sadly, her leprosy went untreated for too long and she has life-long disabilities as a result.
Hidiya remains traumatised by the recent attack on her hometown of Dessie where she witnessed kidnapping, beatings and killings. Her disabilities meant she was left stranded in her home while her family and fellow villagers ran for their lives from the armed group. For more than two weeks no one came to her house. She was found weak with hunger having finished all the food and drinking water.
When the town of Dessie returned to relative peace, finding food and clean water was a challenge. Hidiya's disabilities meant she couldn't access emergency support from the government. She is alive today through the kindness of a neighbour who helped her at a time when she too was fighting for survival.
The situation in northern Ethiopia remains tense and unpredictable. Yet Leprosy Mission staff have risked their own lives to deliver emergency aid to thousands of disabled and vulnerable people. Food and hygiene parcels have been distributed to those unable to access major humanitarian aid efforts in seven towns across Amhara. This includes Hidiya who said: "May God bless the people who remembered me during my loneliest time."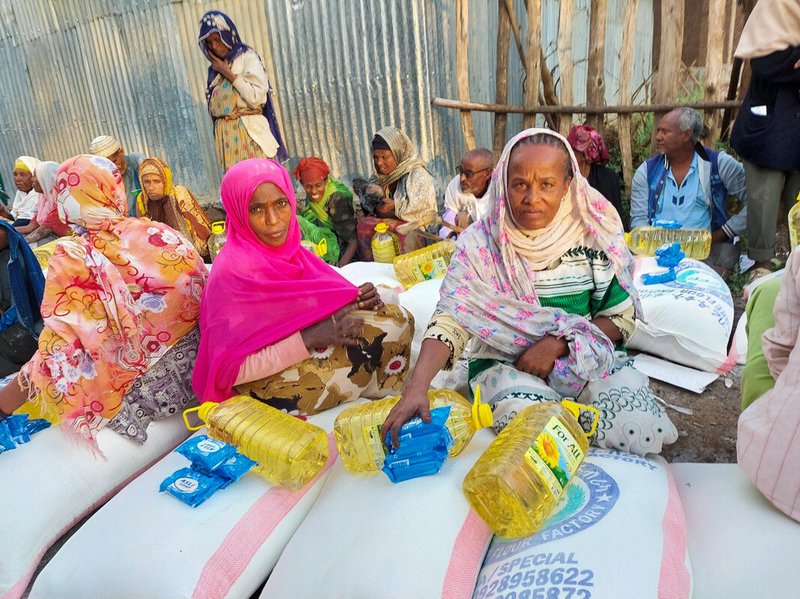 Chief Executive of The Leprosy Mission, Peter Waddup, says the international community must escalate its response to help the 15 million currently experiencing acute hunger and starvation across East Africa.
Peter said: "The food crisis across the Horn of Africa, exacerbated by the war in Ukraine, means millions of people are now fighting for their lives.
"Ukraine has captured much of the world's attention and resources and, as a result, aid budgets are severely stretched. There is no certainty that enough help will reach East Africa.
"Our supporters have been incredible and have saved the lives of some of the most vulnerable people in Ethiopia. I am completely in awe of my colleagues on the ground who risked their own lives delivering emergency aid. Even on their way home they encountered problems when the main road to the capital Addis Ababa was closed due to a nearby conflict.
"Our supporters' response to the crisis has been amazing. Their hearts have been broken by real life stories like Hidiya's. It is a complete injustice that people like Hidiya are most impacted by drought and climate change when they barely have a carbon footprint.
"We are continuing to appeal for emergency funds so that we can help 500 vulnerable families across the Amhara region to rebuild their lives. These are people who lost everything they own, including livestock and crops. Following the conflict and the looting many no longer have a roof over their head and lack basics like blankets and bedding.
"We are in touch daily with our colleagues on the ground to see how we can help provide the most basic needs to people during the hour of greatest need."
Donate now to provide emergency food and supplies in Ethiopia